Team6 Decides To Revive FlatOut For Nintendo Wii…Really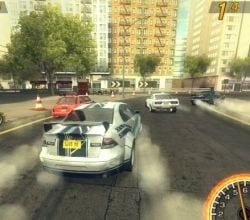 The short-lived, phsyics-based, destruction-racing series that came out near the end of the Xbox era is coming back as a brand new, rebooted series for the Wii. That's right, Team6 has announced that they will be reviving FlatOut and unleashing a few additional modes and features for its reincarnation on the Wii.
Ronnie Nelis, CEO Team6 game studios commented in the press release, saying
'Violence' and 'fun'? Well, count me in. It's funny, though, how Team6 seems to be going back and rekindling all that gaming nostalgia by reinventing last-generation titles for the Wii. Nevertheless, if they're aiming for FlatOut to be fun, as I said...count me in.
The team has released tidbits of info, mainly about the game modes that will be present in FlatOut, including a deathmatch arena mode, complete with traps and hazards. The popular Stuntman mode will return as players must complete physics-based challenges; A racing mode will be present and the last mode is called Trash mode, which is a brand new feature specifically made for the Wii that's all about causing major mayhem.
Gamers interested in the destruction-style racer can learn more about FlatOut for the Nintendo Wii by paying a visit to the Official Team6 Website.
Your Daily Blend of Entertainment News
Staff Writer at CinemaBlend.