Top 20 Best DSiWare Games Worth Playing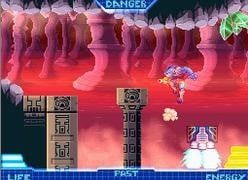 Are you a little worried about pouring any money into the DSi titles because you think too many of them suck donkey nuts? Well, it's okay a lot of people feel that way. However, the kind folks over at Pocketful of Megabytes have gone through the painstaking venture of listing some of the very best DSiWare games worth checking out.
Pocketful of MB's Robert Williams' comprehensive lists of games ranging from some well known franchises to little known titles worth a gamer's gander. He also informed readers about a very important feature that ties the DSiWare platform in with the 3DS, saying…
The list contains some obscure titles such as FlipNote Studio as well as underground cult classics such as Cave Story and Dragon Quest Wars.
There's no sense wading around this article – if you want to check out the full list of the DSiWare titles worth your time head on over to a Pocketful of MB for the complete list.
Staff Writer at CinemaBlend.
Your Daily Blend of Entertainment News
Thank you for signing up to CinemaBlend. You will receive a verification email shortly.
There was a problem. Please refresh the page and try again.