Uncharted 3 Heads To The Xbox 360?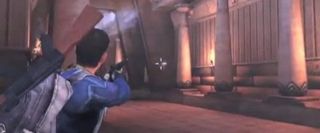 It's not quite Uncharted 3 but it's close. A game called Unearthed: The Trail of Ibn Battuta is a third-person, action-adventure shooter for multiple platforms and it carries many of the same traits as Uncharted 3. A new trailer was also released to accompany the news for pure skeptics.
According to CVG [via SaudiGamer], a Saudi developer going by the name of Semaphore has announced that Unearthed will be available on launch for the Xbox 360, along with concurrent releases on the PS3, mobile phones and for iOS platforms.
The game features a fortune hunter, Faris Jawad, who ventures to Morroco for a rare relic, as he follows the trail of the famous Muslim explorer, Battuta. The journey will lead Jawad through a number of conspiracies, double-crosses and action from every corner of the screen as he travels across the Middle-East in search of the lost treasure. He'll also face off against corrupt officials, a crazed military leader and colorful arms dealers. This story is starting to sound familiar.
To mirror Uncharted 3 even more, Unearthed will feature platforming segments, melee combat and a few puzzles to keep things interesting. And just like Uncharted, gamers will not be confined to a single location…the game will span many different countries and locations to give players a true sense of global adventure.
You can check out the official gameplay trailer for Unearthed below, which is still in its pre-alpha stage...and that might explain why poor Faris looks like he has a bad case of diarrhea when he runs. The game doesn't have an official release date yet but it is labeled as "coming soon" despite the fact that it needs tons of polish. So we all know what that means…2014 FTW!
Your Daily Blend of Entertainment News
Staff Writer at CinemaBlend.