Uncharted: The Fourth Labyrinth Announced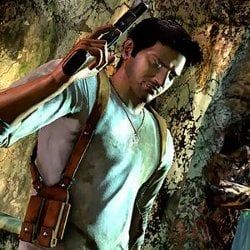 The next Uncharted game hasn't been announced but perhaps you can fill the void with merchandise. Del Rey Books announced it will be publishing Uncharted: The Fourth Labyrinth, a novel with an all-new story.
"What the hell's a novel?" you undoubtedly ask. Well, it's sort of like a video game except there are no sounds or pictures and you can't play it. On the plus side, though, you'll get to read very florid descriptions of Nathan Drake's razor stubble.
In The Fourth Labyrinth, Drake sets out to find legendary labyrinth of Daedalus. The search will take him to far-flung locations like Crete and China. He'll probably end up in some strange girl's bedroom, too. Treasure huntin' ain't easy.
Fourth Labyrinth will be written by Christopher Golden. Look for it in fall 2011.
Your Daily Blend of Entertainment News
Staff Writer at CinemaBlend.