Virtua Fighter 5: Xbox 360/PS3 Graphics Comparison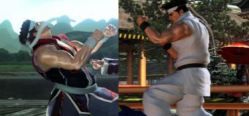 Okay, so get this, Sega just released some new screenshots of the Xbox 360 rendition of Virtua Fighter 5, which is due out a little later this year. So we here at CB Games thought it overly necessary to do a really quick graphical comparison between the PS3 and Xbox 360 screenshots. Although, you might want to check it out for yourself.
The first thing you might not be able to notice is the resolution. The PS3 definitely has an edge up on the competition. Then again, maybe the screenshots weren't taken while playing with the Elite utilizing HDMI. Anyway, on to a more obvious distinction: Lip gloss lighting. I think I speak for everyone when I say that the Xbox 360 will plague the "next" generation (i.e., it's really now the current generation of gaming, but we'll continue to call it "next generation" until the PS2 officially dies) with tons of lip gloss lighting. Now the glossy shaders don't look bad, but they only work when accenting a sort of plasticity look out of the characters. It suits some games better than others.
The character models, however, they look about the same on both versions. I'm still disappointed that neither the PS3 nor the Xbox 360 version has the characters rendered to look like the demo pics from last year's E3. But that's all right. I guess we can look forward to those kind of visuals in 2008. Thankfully you won't have to wait that long for the Xbox 360 version of Virtua Fighter 5 to hit store shelves. Or if you're already $600 down, you can currently pick up Sega's premier fighting franchise for the PlayStation 3. Regardless, you can enjoy the screenshot comparison below.
Your Daily Blend of Entertainment News
Staff Writer at CinemaBlend.