WWE 14 Will Be A Take-Two Interactive Game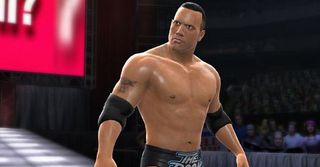 Take-Two Interactive, parent company of 2K Sports and Rockstar Games, has secured the rights to create games based on World Wrestling Entertainment. The publisher took over the license from THQ, the former publisher who went bankrupt in December.
The deal will free THQ from its multi-year contracts with WWE Inc. and Yuke's, the latter being the developer of the WWE games. WWE and Yuke's would have sued THQ for sizable amounts if they hadn't lined up Take-Two as a new successor. The two companies would have sought claims of between $30 million and $60 million from THQ, according to Bloomberg.
"By working together to transition development of WWE games going forward the parties have minimized the harm to WWE and Yuke's, which have, in turn, agreed to substantial reductions of their claims," read the court papers.
Under the agreement, THQ will pay $650,000 in royalties to WWE Inc. for the THQ-published WWE games sold during their bankruptcy protection. THQ will also give Yuke's a $250,000 royalty payment and return the 14% stake they bought in the Japanese developer. WWE and Yuke's are now free to enter into agreements with Take-Two.
THQ sold off many of its assets in an auction this January. Saints Row and Company of Heroes were among the franchises sold. A report that Take-Two had bought the WWE game license was published the day after the auction. Bloomberg's report includes a quote from a THQ attorney that estimates the remaining assets, including Darksiders, are worth roughly $29 million.
It's not clear whether the WWE series will get a new game this year or not. The report does mention that Take-Two is hiring former THQ employees who worked on the WWE games. Furthermore, it's entirely possible that Yuke's been working on WWE 14 since they released WWE 13, as they haven't announced any other projects. The transition of the WWE game series from THQ to Take-Two, therefore, might turn out to be a smooth one.
Staff Writer at CinemaBlend.
Your Daily Blend of Entertainment News
Thank you for signing up to CinemaBlend. You will receive a verification email shortly.
There was a problem. Please refresh the page and try again.