Watch Dogs Launch Trailer Hacks Its Way Through Chicago On A Quest For Vengeance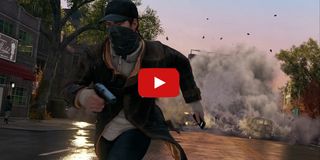 Leading up to the May 27 release, Ubisoft has unleashed an exciting launch trailer for their open-world action-adventure game Watch Dogs. As the trailer indicates, the story involves a man using the city of Chicago as his ultimate weapon to exact vengeance on his enemies. The new preview shows Aiden Pearce tearing through Chicago, on the hunt and on the run, armed with a gun and a cell phone and using a variety of vehicles to get around the city.
"You play as Aiden Pearce, a brilliant hacker who saw something no one was meant to see," reads the official synopsis of the game. "His enemies came for him, but killed a family member instead. Now on the hunt for those responsible, you'll be able to monitor and hack all who surround you by manipulating everything connected to the city's network."
The game will feature both single and multiplayer modes, enabling gamers to enjoy the open-world adventures either alone or with friends. Players will also be able to traverse the city in sports cars, jeeps and and even boats. There will also be plenty of opposition for players to overcome, including police forces and rival gangs. There will be more than 40 hours worth of gameplay. Players will be able to unlock new missions, side-quests and hacking abilities as they progress through the game.
The main gimmick of the game is hacking. Protagonist Aiden Pearce can tap into Chicago's Central Operating System to access security cameras, control mass transit, or pull up information on other citizens. These hacks help him stay one step ahead of his various enemies.
Aiden's not just a computer whiz, though. The trailer has abundant footage of him killing or out-driving a whole lot of people. To put it in TV terms, Aiden is like a cross between Jim Caviezel's secret agent character and Michael Emerson's tech genius character from Person of Interest.
Ubisoft embedded glowing press quotes throughout the trailer. One site called it "awesome" and another said it's "sheer brilliance." I'm sure that clears up any doubts you had about the game.
Watch Dogs will arrive worldwide on May 27, 2014, and will be available on PS4, PS3, Xbox One, Xbox 360 and Windows PC. Get a look at the multiplayer gameplay for Xbox One here.
This poll is no longer available.
Staff Writer at CinemaBlend.
Your Daily Blend of Entertainment News
Thank you for signing up to CinemaBlend. You will receive a verification email shortly.
There was a problem. Please refresh the page and try again.