Watch The First Video Released In Street Fighter V Web Series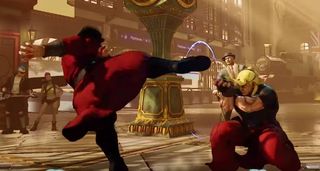 The launch of Street Fighter V is just around the corner so, in order to get everyone ready for the big launch, Capcom has started rolling out a series of videos meant to introduce fighting fans to the cast of brawlers. They kick things off with Ken.
Now, I know what you're thinking: Who doesn't know who Ken is? Well, everyone has to start somewhere and, for some gamers, Street Fighter V will serve as their introduction to the series. It's also important to note that Capcom seems to be treating the PS4/PC fighter as a soft reset of sorts for the series, introducing more involved stories for each character and keeping all future updates corralled under the core game, rather than releasing a slightly new version of the same game on an annual basis.
As such, maybe even seasoned series fans could do with a reintroduction to the iconic cast of characters, yeah?
Titled "SFV: Character Introduction Series – Ken," this latest video from Capcom gives us a bit of insight into who the blonde brawler actually is. There was a bit of talk a few months ago when Ken's new look was revealed, earning a bit of negativity from longtime fans. Honestly, I don't see what the fuss is about. Ken looks rad in Street Fighter V, and the dude was way overdue for a light remodel.
In the first moments of this video, I'm already learning things about Ken that I never knew. Maybe these details were buried in previous versions of the game, but I was never aware of the fact that Ken was the heir to a fortune. His bromance with Ryu, though, has been around since the dawn of the series.
The video goes into Ken's moves a bit, including his unique V Skill that lets him rush forward to close the gap between he and his opponent. He's V Trigger, on the other hand, ups his damage and lets him carry his combos further than normal.
In case neither of those things sounds familiar, it's because they're new mechanics being introduced in Street Fighter V. We've seen similar systems before, but these new "V" abilities should keep things nice and fresh for seasoned players.
After a quick look at some of Ken's fiery footwork, the video asks the question "Why play Ken?" The answer: He's a locomotive of forward momentum. If you like to push the offense, Ken is the fighter for you in SFV.
Look for Street Fighter V to finally arrive come Feb. 16.
Staff Writer for CinemaBlend.
Your Daily Blend of Entertainment News
Thank you for signing up to CinemaBlend. You will receive a verification email shortly.
There was a problem. Please refresh the page and try again.