Watch The Sopranos Intro Recreated In GTA 5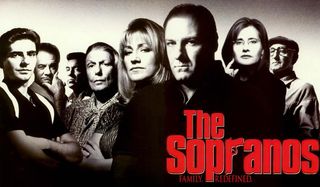 GTA 5 players have used the sandbox game to remake the introduction from HBO gangster series The Sopranos. The shot-for-shot remake is well worth a watch.
In the title sequence, mobster Tony Soprano drives along the Jersey Turnpike to his home in the suburbs. The camera follows his gaze as he looks out the window at scenes throughout the New Jersey area. "Woke Up This Morning" by Alabama 3 plays in the background.
"Recreating The Sopranos intro in GTAV was pretty time-consuming, but a lot of fun. It was also our first experience using green screen (you can't smoke in the car while it's moving)!" creators 8-Bit Bastard said on the YouTube description of the video. "Big thanks to Gordymills for playing the role of the incredible James Gandolfini. Gone but not forgotten."
The creators of the remake had a major hurdle to overcome in the setting. The game takes place in Los Santos, a fictionalized version of Los Angeles. The Sopranos is set in the New Jersey area. As a result, there are a few signs and landmarks that don't match up.
Nonetheless, the camera work is spot-on. You can see how well the two videos line-up in this side-by-side comparison:
8-Bit Bastard hopes to remake the introduction from The Sopranos in Grand Theft Auto 4 eventually, too. That game has the advantage of being set in Liberty City, the GTA equivalent of New York. The locations in a GTA 4 trailer would look much closer to the places glimpsed in the Sopranos title sequence. The trade-off would be worse graphics and fewer customization options for characters, though.
GTA 5 players have shown a fondness for reshooting film scenes within the game. Recent remakes include Back to the Future, Terminator 2 and Gone in 60 Seconds. We haven't seen nearly as many television show reenacements but maybe this video's the start of a new trend.
Rockstar will make it easier for players to create this custom videos with the PC version of GTA 5. The PC version, slated to launch this fall, will include movie editing tools. This should allow the community to build more professional-looking videos. Even without those tools, though, they've managed to make some fantastic creations.
Your Daily Blend of Entertainment News
Staff Writer at CinemaBlend.
Your Daily Blend of Entertainment News
Thank you for signing up to CinemaBlend. You will receive a verification email shortly.
There was a problem. Please refresh the page and try again.