What's Different About Elder Scrolls V: Skyrim's PC Version?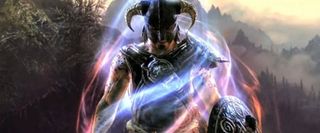 Though Bethesda has branched out into console development in recent years, their roots are in PC gaming. It shouldn't come as a shock, then, that the PC versions of Elder Scrolls V: Skyrim will carry some unique features.
Skyrim game director Todd Howard was asked about the differences between the PC and console editions during a lengthy fan interview. He had a lot to say on the subject.
"As far as UI, it visually looks the same across the platforms, but the controls are entirely different," said Howard. "There's also a lot of "power user" stuff we do with the keyboard from how favorites work, to quick saves, and more that is similar to what we've done before in that area. We're packing a lot of info on the screen and the whole interface is much less 'look at giant fonts!' than, say, Oblivion."
"The PC version also gets higher res textures, larger render modes, and a bunch of other effects you can scale up if your machine is a beast. Last but most important, is the Creation Kit we'll be releasing for the PC. Modding the game and making it your own is very important to us and our fans, so we're going to keep doing whatever we can in that area."
The interview has a lot of other general information on the game so it's worth checking out. The developers reveal, among other things, that you can get married in the game and also continue playing after the main storyline is complete.
Skyrim will arrive on the PC and consoles on November 11th.
Your Daily Blend of Entertainment News
Staff Writer at CinemaBlend.