Why Firefly Actor Left Uncharted 4's Cast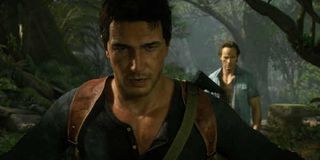 Firefly actor Alan Tudyk was supposed to be part of Uncharted 4's voice cast. However, he pulled out due to "weird" changes made by Naughty Dog.
In an interview about his upcoming web series Con Man, Tudyk explained to IGN that he left when the Uncharted 4 development team underwent a change in leadership. That change in leadership, he said, resulted in "weird changes" to the game:
Amy Hennig, writer and creative director for the Uncharted series, left Naughty Dog in March 2014. Not long after, Uncharted 4 game director Justin Richmond also departed the company. The two were replaced on the game by Last of Us heads Neil Druckmann and Bruce Straley.
We've already heard in the past that the leadership shakeup lead to a dramatic rework of Uncharted 4. Nolan North, voice of Uncharted hero Nathan Drake, said at Metrocon that a significant amount of work was thrown out when Hennig left the company:
I hope that we can find out what changed in Uncharted 4 due to this change in management. Those months of discarded work could have resulted in a very different game. Getting details out of Naughty Dog or their former employees could be tough due to confidentiality agreements but hopefully the story will get out in time.
In the meantime, Naughty Dog's loss appears to have been Star Wars' gain. Amy Hennig is now creative director on Visceral's new Star Wars game. Her co-writer on the project is Todd Stashwick, who was originally going to play Drake's brother Sam in Uncharted 4. Alan Tudyk, meanwhile, is going to star in the upcoming film Star Wars: Rogue One.
Staff Writer at CinemaBlend.
Your Daily Blend of Entertainment News
Thank you for signing up to CinemaBlend. You will receive a verification email shortly.
There was a problem. Please refresh the page and try again.