Wii Mod-Chip Sellers Get Busted By Homeland Security And Nintendo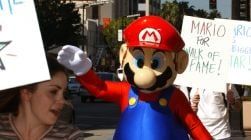 Yesterday, U.S. Immigrations and Customs Enforcement agents have issued 32 warrants in 16 different states regarding illegal sells and distribution of mod chips and non-sanctioned electronic devices used to modify various consoles, including Nintendo's Wii. Given the amount of money Nintendo has lost in the past year due to piracy, the Big 'N' considers this recent bust a huge victory.
"Nintendo and its developers and publishers lost an estimated $762 million in sales in 2006 due to piracy of its products," said Jodi Daugherty, Nintendo of America's senior director of anti-piracy. "Nintendo's anti-piracy team works closely with law enforcement officials worldwide to seize mod chips and counterfeit software. Since April, Nintendo has seized more than 91,000 counterfeit Wii discs globally."
Who knew Nintendo could be so vigilant with their black market raiding tactics? Now I'm curious to see what the company would do if they were in charge of handling illegal drug smuggling and black market imports of unsanctioned contraband. Can you imagine Nintendo guards kicking down doors while wearing red and white protective gear over blue overalls? Ha!
On a serious note, though, the Big 'N' has been working very closely with Homeland Security to provide a more rigorous and ardent crackdown on pirated software distribution and illegal hardware modification. This just goes to show you that Nintendo not only cares about putting out top-notch software titles, but they also care very much about the safety of the video game software and hardware market. Way to go Nintendo, you're legitimate vigilance is awe inspiring. :)
Your Daily Blend of Entertainment News
Staff Writer at CinemaBlend.