Wii Punch-Out!! Multiplayer Screenshots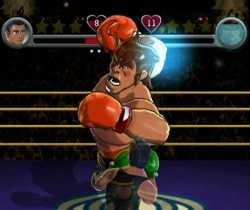 Though the Wii remake of Punch-Out!! will share the core gameplay of the NES original, there'll be one crucial difference between the two: multiplayer. Nintendo released five screenshots today that feature the game's head-to-head mode.
Head-to-head matches are played locally through a split-screen view. Once one of the players gathers up enough power, though, they're able to transform into an oversized "Giga Mac." The game then switches into the traditional single-player view, with Little Mac (the player who wasn't transformed) in the foreground and Giga Mac in the back.
That new camera view seems like it could get a little disorienting for the Giga Mac player. Maybe that's intentional to keep things balanced, though. Punch-Out!! will be released on May 18th in North America and on May 22nd in Europe.
Image 1 of 5
Image 2 of 5
Image 3 of 5
Image 4 of 5
Image 5 of 5
Staff Writer at CinemaBlend.
Your Daily Blend of Entertainment News
Thank you for signing up to CinemaBlend. You will receive a verification email shortly.
There was a problem. Please refresh the page and try again.