World Of Warcraft's Robin Williams Tribute Is Now Live In Warlords Of Draenor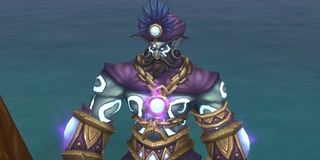 Blizzard has implemented their World of Warcraft tribute to Robin Williams. The memorial to Williams can now be found in the beta for upcoming expansion Warlords of Draenor.
Some of the artwork for this tribute was previously found in the expansion's files. However, now you can actually see them in action. If you're in the Draenor beta, you can find an Ever-Burning Lamp on an island off Talador's coast.
When you interact with the lamp, a genie named Robin will appear. He'll say "Infinite Cosmic Power!" and then start to shrink. The genie then waves and says "Itty bitty living space" before disappearing.
The quote and genie are references to Williams' role in Aladdin. Blizzard changed the genie's lines slightly, though; the genie in Aladdin says "phenomenal cosmic power." Maybe they did that to fend off Disney's lawyers. I have trouble imagining that Disney would be tone-deaf enough to sue them over a Robin Williams tribute but I can't blame Blizzard for playing it safe.
The island on Talador has some other interesting objects. The first is a giant, broken egg with a chair and control panel inside. This seems to be a reference to Mork and Mindy, a sitcom that Robin Williams starred in. His character was an alien who traveled to Earth in a spaceship that looks roughly like this.
The previously leaked artwork for the WoW tribute included a character that looked like Mork. Maybe he'll appear near this crashed spaceship in a later version of the Warlords of Draenor beta?
The other leaked character was an elderly woman, believed to be a reference to Mrs. Doubtfire. She can't be found on the island yet, either. Again, Blizzard might end up adding her in the future.
Players can also find stuffed animals and toy tanks on the island. These could be a reference to Toys. That movie featured a battle between violent and non-violent toys. You can see screenshots of the toys and other aspects of this tribute island in the gallery below, courtesy of Wowhead).
Williams died on August 11th of an apparent suicide. World of Warcraft players demanded an in-game tribute to Williams soon afterward because he was an avid WoW player. They got the attention of the game's development team through an immensely popular petition.
Warlords of Draenor is the fifth expansion pack to WoW. The expansion will launch on November 13th, close to the game's 10-year anniversary.
Staff Writer at CinemaBlend.
Your Daily Blend of Entertainment News
Thank you for signing up to CinemaBlend. You will receive a verification email shortly.
There was a problem. Please refresh the page and try again.