Zero Gear: A Mind Blowing Kart Racing Game For PC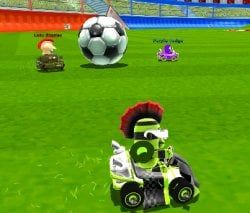 Nimblebit announced today that a brand new promo trailer and details for their upcoming kart racing game have been released. The game itself is actually really cool and nearly rivals the creativity and some functionality of the upcoming Modnation Racers for the PlayStation 3.
Zero Gear sports multiplayer modes, a variety of game modes to accompany the multiplayer, vibrant visuals, and an extremely detailed kart customization utility. In a way, you could say that this is to PC kart racing what Mario Kart is to Wii kart racing. The concept and style also seems reminiscent of the glitchy but amazing 1996 racer by Rocket Science Games, Rocket Jockey.
You can check out the brand new trailer for the game below or you can check out a bunch of new screenshots or an opportunity to partake in the closed-beta via Steam by visiting the Official Zero Gear Website.
Staff Writer at CinemaBlend.
Your Daily Blend of Entertainment News
Thank you for signing up to CinemaBlend. You will receive a verification email shortly.
There was a problem. Please refresh the page and try again.