All You Need Is Kill And Jupiter Ascending Confirmed For IMAX 3D
You have to see them in 3D!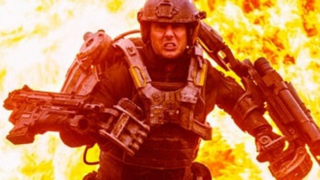 (Image credit: Warner Bros.)
Almost everyone can find something to celebrate in the latest press release from IMAX, which says that 20 upcoming Warner Bros. films will be released in the larger-than-normal format in coming years. Anxious for Bryan Singer's family adventure Jack the Giant Slayer? Dying to see Superman soar through IMAX skies? Want to see Guillermo del Toro's giant freaking robots decimate his giant freaking monsters in the IMAX format? Man, you are going to be in luck.

But two films that we previously didn't expect to be in IMAX now have been confirmed for the presentation. Doug Liman's All You Need is Kill, which recently teased us with it's first fiery image, now will be coming to IMAX on March 7, 2014. Set in a distant future, the sci-fi thriller pits Cruise against vicious aliens in a brutal variation of Groundhog's Day, where a soldier dies in battle, only to wake up and relive the same fight again and again.

But that's not all. On an undetermined date, IMAX and Warner will release Jupiter Ascending, the next project from Cloud Atlas co-directors Lana and Andy Wachowski. We don't know a lot about the plot yet, and the Wachowskis are notoriously covert about their screenplays. But if it's half as ambitious as their last effort consider us in.

If these projects don't necessarily float your boat, the IMAX deal with Warner also includes presentations of George Miller's next Mad Max movie, Fury Road; the previously announced Godzilla reboot (May 16, 2014); the 300 sequel, 300: Rise of an Empire; and the recently revealed Tarzan remake. Big things are coming from Warner Bros. … literally.
Your Daily Blend of Entertainment News
Sarah is currently a professional child wrangler. When she is not running around on the playgrounds and slapping together PB&J sandwiches, she loves getting a good sweat in at the gym, singing, and going to see live theatre (while simultaneously dreaming about being a part of a stage creation again one day).