The 11 Scariest Movies Of All-Time, According To Martin Scorsese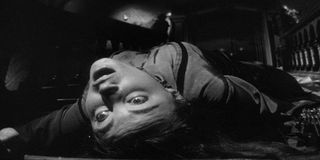 It's common knowledge that if Martin Scorsese has something to say about the movies, you sit down, shut up, and immediately start taking notes. To celebrate Halloween, the cinematic genius has picked out the 11 scariest films of all time in his opinion. And as you could have probably guessed there are a few freaky flicks on his list.
But what film truly terrifies Martin Scorsese? Well, during a in depth interview with the Daily Beast, which he actually conducted last year, the man behind such incredible delights as Raging Bull, Taxi Driver and Goodfellas revealed that Robert Wise's 1963 horror The Haunting is the scariest movie of all time. You can check out a trailer for the psychological horror, which was adapted from Shirley Jackson's The Haunting Of Hill House, below.
Pretty spooky stuff. While The Haunting isn't quite as famous as others on Scorsese's list, it certainly packs a terrifying punch. In fact, Steven Spielberg has previously joined Martin Scorsese in championing the cult movie, and even though it opened to mixed reviews, its reputation has continued to prosper over the years.
But what else keeps Martin Scorsese awake at night? As you'd expect from a man with an encyclopedic knowledge of movies, there are quite a few obscure selections. The Haunting is then followed by 1945's Isle Of The Dead (#2), which is an RKO production that starred horror icon, Boris Karloff. The supernatural mystery The Uninvited (#3) was next, then 1981's The Entity (#4), which revolves around Barbara Hershey being tormented and sexually assaulted by an invisible demon. The director's top five is completed by Ealing Studios' Dead Of Night (#5).
However, Martin Scorsese also found room for several recognizable horror films that are now cornerstones of pop culture history. After singling out Peter Medak's The Changeling (#6), which possesses a memorably eerie performance from George C. Scott, Marty admits that, like the rest of us, he was terrified by Stanley Kubrick's terrifying The Shining (#7). How could he not be? Kubrick's classic scares stalk you like a ghost before suddenly pouncing. He then goes on to praise William Friedkin's blockbuster horror extravaganza The Exorcist (#8). Despite their popularity, both of these films are still exemplary examples of how to truly get under the skin of your audience.
Martin Scorcese's list is then rounded off with Jacques Tourneur exploration of a satanic cult in Night Of The Demon (#9), Jack Clayton's divine supernatural gothic horror The Innocents (#10), which was written by Truman Capote, before he ends with Alfred Hitchcock's seminal masterpiece, Psycho (#11). Let's face it, Psycho is probably the most perfectly crafted movie of all time. The famously portly filmmaker meticulously meanders us from the romance genre to the crime genre before finally landing on horror and then pulverises us with gruesome images and disturbing, Oedipal relationships. As Martin Scorsese explains, "it's extremely disturbing on so many levels" and even though "it's so familiar that you think: great movie … it's not so scary anymore. Then you watch it … and quickly start thinking again."
It would be rude not to celebrate its most famous scene at this point. Plus it's also the perfect way to wish everyone a happy Halloween, too.
Your Daily Blend of Entertainment News