5 Incredible Robin Williams Performances You Haven't Seen (But Really Need To)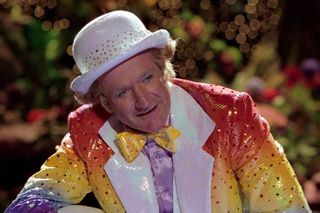 Not every Robin Williams performance was a winner. The actor was in some bad films, and sometimes he could be not-great in pretty decent fare. Still, his output was so consistent that it resulted in some of his performances falling completely by the wayside, work that would be grouped with other inessential material.
Williams, after all, wasn't so much a great actor as he was a great experimenter, attempting different films, giving diverse performances, taking a plunge where others would simply wade in. As a result, these five performances have been overlooked despite their significance to Williams' resume because of the growth in his craft, and the risks he took.
The Best Of Times
One of the earlier films in Williams' career, this comedy-drama pits him against Kurt Russell in a nerds-vs.-jocks story where one high school failure rings throughout eternity. Williams was still early into his serious acting career, so canning the manic persona he'd meticulously developed proved difficult. In much the same way it dogged Jim Carrey's career, that side emerges in Roger Spottiswoode's sports drama frequently, casting doubt onto Williams' performance as a frustrated banker who can't seem to ignore how his past has been tainted by a botched football play. Re-enacting the moment allows Williams to bounce off jock-ish Kurt Russell as the two form a comedic duo through a delicate balancing act that Williams would fail to replicate throughout the rest of his career.
One Hour Photo
Williams' appearance in this Mark Romanek thriller was part of a shift in priorities for his career, dipping into darker, less sympathetic protagonists. What's interesting about One Hour Photo is that Williams is playing a character who would be a supporting player in another type of film, and yet here he's the lead. As Sy The Photo Guy, Williams takes a moody loner with an obsessive streak and turns him into someone with reservoirs of sadness, someone who has sank so deep into loneliness that he has no idea how to crawl back. Romanek's film stoops to a couple of moments of genre cliché, but with another director and actor, it would probably be just another suspense thriller. Instead, it ends up being an extremely empathetic look at someone who has spent a lifetime wanting to belong, wanting to be the one in the developing photos, not the one who develops the photos.
Death To Smoochy
As childrens entertainer Rainbow Randolph, Robin Williams gives a performance that comes from a lifetime spent in showbusiness. It seems mostly based on shtick at first, with Williams as a corrupt daytime smile merchant turned angry, formerly-employed madman. But Danny DeVito's dark comedy takes Williams' insanity to its logical conclusion, where his sanity begins to depart even as his natural entertainer's side refuses to die out. It's a weirdly personal performance, given Williams' years spent not only entertaining mass audiences, but also sometimes a specific kids' audience. It seems very much like Williams had his doubts about participating in fare like Aladdin, and Rainbow Randolph seems like his way of interrogating that concern, that his shtick had become tiresome, and his value as a clown had diminished.
Being Human
Unquestionably one of the strangest movies in Williams' filmography, this ambitious drama finds Williams playing several superficially-similar personalities over the centuries, each time learning something pivotal about the human condition. As far as the film reaches, Being Human is sort of a terrible movie, written with an emphasis on greeting-card wisdom and exposition patter about history. But as far as 90's studio filmmaking, it's interesting, and it features Williams bouncing through histories, each stop stranger than the last. It's interesting that as a dramatic actor, Williams seems more at home in the earlier time periods, specifically as an early man attempting to build human history. While his family is taken by vikings, Williams is allowed to portray both the human and the tragically comedic part of the story, a fascinating acting exercise for a man who was working around the clock to improve his craft.
Boulevard
A distributor hasn't stepped up to purchase Dito Montiel's bittersweet drama about an older man's coming-of-age, but that's sure to change soon. Williams is understated as a pleasantly-married gay man who refuses to address his homosexuality until he develops an obsession with a young hustler. The picture accurately builds upon an illicit relationship to slowly reveal Williams' own orientation, his loneliness a problem that comes from the compartmentalization of a facet of his identity that has allowed him to have lightweight, dedication-less relationships with friends and family. Williams' scenes with his wife, played by Kathy Baker, reveal two thespians at the peak of their powers, Williams creating a character desperately torn between baring himself and protecting the sanctity of his pedestrian suburban life.
Your Daily Blend of Entertainment News
Thank you for signing up to CinemaBlend. You will receive a verification email shortly.
There was a problem. Please refresh the page and try again.