5 New Saw 3D Images Preview The Torture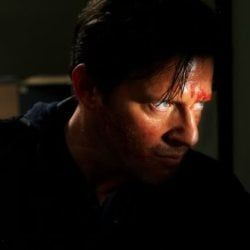 Here in New York the weather has already started to turn cool, which means it's almost fall, which means it's almost time for that annual October tradition. I don't mean Halloween, of course, but the new installment of the Saw franchise, which has been grossing us out around this time every year since 2004 (were we ever so young?) This year's installment, Saw 3D, is also the first film in the franchise to be in 3D, and you'd better believe they're leaning hard on that gimmick.
We've got five new images from the film, all of which you can see below. None of them show off any of the gore or how the traps might work, but there are a few hints of things that might look great in 3D. One shot is of director Kevin Greutert, which won't be in the final movie of course but serves as a visual representation of deep career disappointment when you're forced to return to a franchise you don't care about. Check out that, plus some more conventional forms of torture, in the images below. You can click on them to find higher-res versions in our gallery.
Your Daily Blend of Entertainment News
Staff Writer at CinemaBlend