50 Cent To Play An Alaskan Pimp In The Frozen Ground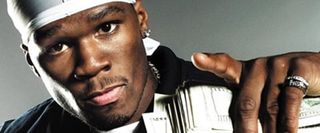 By now we should have all come to terms with the fact that rappers inevitably will turn their careers toward acting. Ices Cube and T have managed some pretty strong careers, and Ludacris and Common aren't doing too bad for themselves either. Their colleague Curtis "50 Cent" Jackson has been making a bid for an acting career since his debut in the autobiographical Get Rich or Die Tryin' in 2005. Though he already has three films in post-production under his Cheetah Vision production company, Cent has added The Frozen Ground to his growing list of upcoming films.
Frozen Ground is set in 1970s-80s, Alaska where notorious serial killer Robert Hansen murdered 17 prostitutes and/or strippers, and was better known as "Butcher Baker". Cent will play a pimp who undoubtedly will be losing girls and looking for revenge and money, though the specifics of his role have not been released beyond that he'll have a "significant role" according to the Anchorage Daily News. Cent's partner at Cheetah Vision Randall Emmett will be producing the film.
The rapper will be joining Nicolas Cage who has taken the lead as a State Trooper investigate the Butcher Baker case. The Butcher himself will be played by John Cusack, who rarely gets to step up and play the bad guy. And Vanessa Hudgens, of High School Musical and Sucker Punch quasi-fame, will be baring skin again as one of the would-be victims who managed to escape.
Emmett says that Cent has moved a bunch of tour dates around to make sure he can be committed to the film, a gesture that proves he actually does care about making his career as an actor work and isn't just there for a quick dollar. Get used to seeing him on screen, we're going to get a lot of it in the next couple of years.
Your Daily Blend of Entertainment News
Thank you for signing up to CinemaBlend. You will receive a verification email shortly.
There was a problem. Please refresh the page and try again.