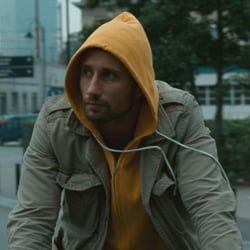 Computers have blessed society in many ways, from communication to accessibility of information. But as far advanced as the technology has gotten, they are still dangerous machines. Every minute of every day, people trust that the content they keep on their computer is safe and for their eyes only, but viruses, hackers and network infiltrators find their way in every day. Anyone with awareness of this fact is likely at least a little paranoid, and it's that terror that writer/director Alex Stockman uses as fuel for his thriller Pulsar.
Set in Brussels, Belgium, Sam (Matthias Schoenaerts) watches as his long time girlfriend, Mireille (Tine Van den Wyngaert), move to New York to pursue a job at an architecture firm. He misses her dearly and is they keep in touch using webcam chats, but a problem arises when Sam discovers that someone has found access into his wireless network. He calls in specialists to try and fix the problem, only to see their work come undone after only a few days. He quickly finds himself becoming suspicious of everyone around him, not knowing who is the person trying to screw with both him and his relationship.
Living in a world filled with identity thieves, what makes the story so effective is that any one of us could be in Sam's position. We watch and occasionally find humor in what our protagonist is doing to try and protect himself, but the reality of the film is only slightly heightened. Moving beyond computers the story is about a person simply trying to defend what he cares about.
One of the cooler aspects of the film is its sound design. While Sam runs around his apartment fearful of the invisible frequencies surrounding him, the sound of feedback creeps over the sound system with little pops and buzzes. They're sounds that we likely hear everyday, whether we're turning through radio stations or theirs a loose wire behind one of your speakers, but in the context of the film they are just as creepy as any horror score.
The film's most glaring flaw is its pacing. While the "slow burn" method is tried-and-true in the thriller genre, there's such a thing as too slow a burn. Though the film clocks in at a meager 91 minutes, the audience feels the length as Sam's transformation is spread out too thin. The film doesn't need to be cut in half by any means, but 10-20 minutes hitting the editing floor would do the film some favors.
The best kind of horror and thriller films are the ones that can invade your own reality once you've left the theater and that's exactly what Alex Stockman's film can do. How many websites store your credit card information? Have you ever left your email open on a public computer? Is your bank number just sitting in your documents folder? It may be time to take a few security measures.
Follow along with all of our special, AFI Fest coverage right here.
Your Daily Blend of Entertainment News
Assistant Managing Editor
NJ native who calls LA home and lives in a Dreamatorium. A decade-plus CinemaBlend veteran who is endlessly enthusiastic about the career he's dreamt of since seventh grade.