AMC Bans Masks And Fake Weapons At Their Theaters In The Wake Of The Aurora Shooting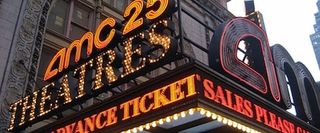 Big releases like The Dark Knight Rises are typically events that inspire people to get dressed up in costumes when they attend the movie theater. It's part of the opening weekend experience for many. Unfortunately, in the wake of the movie theater shooting incident in Aurora, Colorado, safety precautions are being taken at some theaters that will prevent some Batman fans from entering the theater in costume.
AMC issued the following statement on their investor relations site, which addresses their plans to reinforce security procedures, as well as putting a ban on "face-covering masks and fake weapons." It also sounds like they're implementing a somewhat looser policy on refusing entry to people wearing costumes that make other guests uncomfortable.
Going by the comments made about giving guests peace of mind, I'm assuming that the ban on masks and weapons follows the thinking that people might feel nervous at the sight of concealed faces and fake weapons. Whether or not that's the case, this looks like AMC's attempt to do whatever they can to make their patrons more comfortable in the aftermath of the horrific shooting in Aurora. Whether or not this is a permanent policy or something they're implementing for the time-being isn't clear, though the words "at this time" and "this weekend" suggest that this may just be a temporary measure.
Earlier reports state that some theaters showing TDKR this weekend are taking extra security measures as a precaution against copycats.