Actor Tim Griffin Talks About Working On Super 8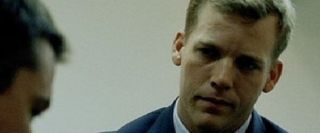 We certainly have our fair share of viral marketing for Super 8, but how about hearing about the film from someone who was actually on the set? Actor Tim Griffin worked with J.J. Abrams on Cloverfield, so he's well versed in "the legendary secrecy." However, even if Griffin were a poor secret keeper, he wouldn't even have any information to divulge as he only got to see his pages of the script.
So what's it like working on a film when you don't even know the whole story? Griffin's done it before, so he can do it again. "People have to be comfortable in that environment," he admitted. "I actually welcome it. I love to be surprised when I'm there." Of course Griffin would also have loved to read the whole script, but he joked, "I don't want to have, you know, a gun held to my head at Bad Robot while I'm reading the pages that are on black paper with red ink."
Just like we're busy trying to piece together the story through the viral marketing, Griffin attempted to do so on set. "I remember talking to a bunch of the other actors at the wrap party and they're like, 'So what did you do?'" Griffin even noted that he's well aware of the fact that Abrams tends to overshoot and there's certainly a possibility some portions of the film will be cut, perhaps even an entire character. But Griffin maintained he doesn't even need that guarantee, "I'm just happy to be considered."
Hear all about Griffin's experience working on Super 8 and his attempt to figure out what exactly the film's about in the clip below.
Your Daily Blend of Entertainment News
Staff Writer for CinemaBlend.
Your Daily Blend of Entertainment News
Thank you for signing up to CinemaBlend. You will receive a verification email shortly.
There was a problem. Please refresh the page and try again.