Alec Baldwin Is No Longer The Boss In Men In Black III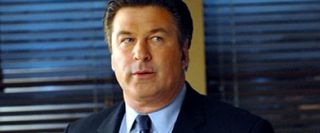 When we heard back in October that Alec Baldwin might be replacing Rip Torn as the head of the Men In Black for the third movie, it was really just a rumor, and we never got any kind of official confirmation as production lasted through the fall and went on hiatus at the end of December. Now that the hiatus has been extended through the end of March, Baldwin has confirmed he's no longer on board after all.
Talking to THR primarily about his prep work for the musical Rock of Ages, Baldwin said he's "out of" Men In Black III, claiming "the schedule didn't work out." Given the ridiculous delays on the movie I'm actually inclined to believe the scheduling excuse for once, but it wouldn't surprise me if Baldwin were also trying to back away from what he sees as a doomed project. Baldwin's departure doesn't exactly cripple MIB III, or necessarily mean anything about its quality, but it can't necessarily help director Barry Sonnenfeld and his team as they try to right a ship that seems to be listing more than ever.
Your Daily Blend of Entertainment News
Staff Writer at CinemaBlend