Allison Janney, William Hurt, And Somehow Katie Holmes Starring In Chekov Adaptation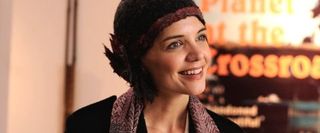 Broadway productions of Anton Chekov's The Seagull have attracted big-name casts in the past, with Maggie Gyllenhaal, Peter Sarsgaard and Carey Mulligan all starring together in a recent rendition of the classic play. And now that a version of The Seagull is heading to the screen, an equally high-profile list of names has signed on-- though with at least one totally inexplicable casting choice thrown in there for good measure. According to Variety, actor Christian Camargo will be making his directorial debut with an adaptation of the play, and has attracted talents like William Hurt, Jean Reno and Allison Janney to star-- oh, and also Katie Holmes.
This version of the story will switch the action from Russia to rural New England, where a family gathers over Memorial Day weekend and havoc ensues as "a family confronts the volatile and fragile nature of love." As in the original, one of the main characters is a famous actress (played by Janney) who returns to the estate owned by her ill brother (Hurt). Holmes will be playing the character who started off in the original Chekov named Masha, but will surely have her name changed; she gets caught up in a love triangle among several people, because in classic Chekov fashion, there are a gazillion people in this play and it's nearly impossible to keep them all straight at this point.
There's not really much to say about the top-flight cast the film has attracted, but the inclusion of Holmes sure has me puzzled-- was there not a young actress available who had similar talents to the rest of the cast? It's not exactly like Holmes has been absent from acting since she married Tom Cruise, but it sure feels like it-- she had roles in the little-seen The Son of No One, Don't Be Afraid of the Dark, The Extra Man and The Romantics, and it's probably kinder just to forget she was part of Jack and Jill. I'll be rooting for her to pull out all the stops and make this role her own, but especially considering the talent she'll be acting with, it's going to be quite the challenge.
Your Daily Blend of Entertainment News
Staff Writer at CinemaBlend
Your Daily Blend of Entertainment News
Thank you for signing up to CinemaBlend. You will receive a verification email shortly.
There was a problem. Please refresh the page and try again.