After Promising Young Woman, Bo Burnham Has Announced An Exciting Netflix Project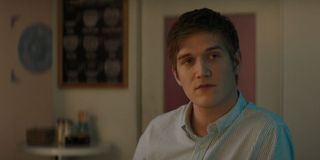 For those of us who grew up in the early 2000's, Bo Burnham could be considered something of a cultural icon. Since debuting his first YouTube videos back in 2006, he's created a successful career featuring comedy specials, movie appearances and even hopping into the directors chair. Fresh off his performance in the Oscar-nominated Promising Young Woman, he's just announced his newest Netflix project.
In a Tweet posted earlier today the Eighth Grade director dropped an announcement for the upcoming Netflix special titled Inside. Check it out:
According to Burnham, he created the entire project by himself. That means no crew or audience to speak of. While the teaser wasn't actual footage from the new special in question, he did say that the upcoming project is close to being finished.
Honestly, I'll take all the Bo Burnham I can get at this point. The YouTube star turned director has been part of a number of impressive projects over the last couple of years. Outside of three successful comedy specials he also earned love from critics for his directorial debut Eighth Grade.
Burnham followed up the breakout A24 hit by co-starring alongside Carey Mulligan in Best Picture nominee Promising Young Woman. The debut film from Emerald Fennell was an awards season favorite, nominated in five categories, ultimately winning Best Original Screenplay. While most of the attention was on the film's subject matter and Mulligan's performance, Burnham earned a Best Supporting Actor nomination at the 2020 Hollywood Critics Association.
More recently, it was announced that Burnham will be playing NBA legend Larry Bird in Adam McKay's upcoming HBO series. The show will reportedly cover the showtime era Lakers and has already brought together a pretty impressive cast.
Honestly, I think this is just the beginning for Bo Burnham. Between his musical talent, impressive writing and comedic chops, the guy is poised for a successful career. I mean come on, he wrote, edited and shot an entire Netflix special over the last year, in a pandemic!
Although it's impressive, it may not be that surprising, considering how his career kicked off. He's elevated himself from the "i'm bo yo" guy to a bonafide comedian, on top of venturing in acting and directing. Burnham has some serious talent and I'm glad he's had such a good run over the last few years. I'm sure that Inside will be another impressive feather in his cap.
For those of you who haven't seen his latest work, be sure to check out Eighth Grade and Promising Young Woman, both of which are available on demand, anywhere you rent movies. As for the rest of the more comedic side of things, his Netflix specials Make Happy and What are both up for streaming right now.
Your Daily Blend of Entertainment News
Into tracksuits by Paulie Walnuts, the Criterion Channel and Robert Eggers.