Thin Man Remake Has A-Listers Facing Off For Nora Charles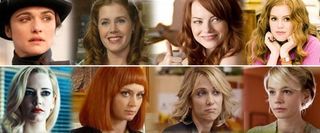 Despite early reports that producers were eyeing Rachel Weisz to star opposite Johnny Depp in Rob Marshall's remake of the classic detective comedy The Thin Man, Deadline reveals the race for the film's female lead is wide open. Looking in earnest for the perfect Nora Charles, the lauded Chicago director will begin meeting next week with a long list of leading ladies, including: Eva Green, Amy Adams, Emma Stone, Carey Mulligan, Kristen Wiig, Emily Blunt and Isla Fisher. Weisz is still in the mix, but now she's got some serious competition.
While each of the women above is beautiful and talented, the range in age and type here is slightly bewildering. In the original Thin Man film series, it was the elegant yet cute and warmly funny Myrna Loy who played Nora, the loving wife and willing partner-in-crime of William Powells' Nick Charles, a private investigator turned man of leisure who returns to his sleuthing roots when a curious mystery falls before him. It was a spirited premise that spun into five sequels, each throwing the banter-loving married couple into a new, comedy-laced adventure. And with a hero who is equal parts eccentricity and savvy, it's no surprise Depp has been pushing hard for The Thin Man's resurrection.
Now, let's parse through these casting possibilities. While Stone (Easy A) and Mulligan (Drive) are wonderfully charismatic and deservedly popular ingénues, at 23 and a baby-faced 26 respectively, they look too young to play the wife of 48-year-old Depp without things getting creepy. Of course Hollywood typically loves pairing older men with much younger women, but this is still an uncomfortable stretch. Even Powell was only 13 years Loy's senior. However, as I'd love to see either actress make her way into this comedy, let's hope Marshall is also looking to cast a younger woman for a yet-to-be revealed role.
As the for the rest, Green and Fisher seem to have a slight advantage as each has played a Depp love interest before, the former in the upcoming Dark Shadows and the latter in Gore Verbinski's animated adventure Rango. Yet Adams has never faltered as a winsome comedic performer and possesses an impressive resume filled with rollicking romances like Enchanted. Still, her Muppets co-star Blunt is better regarded for portrayals of sharp and sassy heroines, and so seems a wonderful fit for Nora. Of course, Wiig has shown a wacky appreciation for classic female character types on a variety of Saturday Night Live sketches and it would be intriguing to see her paired with Depp. Still, it's hard to shake the idea of the ever-graceful Weisz, who was silly while charming in The Brothers Bloom, as the enviably glamorous yet game Mrs. Charles.
Basically, it's difficult to predict who will walk away with the coveted role of Nora Charles. But lucky for us, Marshall has an embarrassment of riches to choose from, and none of the above would be a bad choice for to play Depp's marvelous better half.
Your Daily Blend of Entertainment News
Staff writer at CinemaBlend.