Amanda Seyfried To Join Russell Crowe For Fathers And Daughters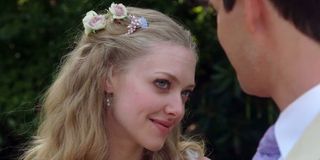 Last winter Amanda Seyfried and Russell Crowe shared the screen on Tom Hooper's ambitious adaptation of the Broadway musical Les Miserables, and now they're set to reunite in the drama Fathers and Daughters. Deadline reports Seyfried has signed on to play the titular daughter opposite Crowe as the titular father.
The screenplay, which earned scribe Brad Desch a coveted spot of the 2012 Black List of Hollywood's best unproduced screenplays, centers on the problematic relationship between a famous but mentally ill author named Jack Davis and his daughter Katie. The story vacillates between his attempt at single-fatherhood following the death of his wife when Katie was just five years old, and her life as a thirty-year-old woman living in modern-day New York and struggling to overcome the scars of her past. We expect this drama will veer into tearjerker territory, as it is to be helmed by Gabriele Muccino, the director of such weepy features as The Pursuit of Happyness, Seven Pounds and Playing for Keeps. Okay, that last one wasn't so much a tearjerker as much as it was a romantic comedy so bad it had critics crying out in anguish, resulting in a 4% rating on Rotten Tomatoes.
Here's a trailer for that gem:
With this mix of cast and crew, it's hard to know what to expect from Fathers and Daughters. Crowe is an outstanding actor whose previous portrayal of a mentally ill man earned him his third Academy Award nomination for A Beautiful Mind. Seyfried is a charming screen presence, but an actress who doesn't seem to make terribly discerning career choices, having recently appeared in three mediocre to abysmal movies: the lackluster biopic Lovelace, the cringe-inducing ensemble comedy The Big Wedding and the forgettable animated adventure Epic. His Black List honor, speaks well of Desch's script, but will Muccino's deep love of schmaltz undercut whatever got producers pumped about this screenplay? We'll have to wait and see.
There's no word yet on when Fathers and Daughters will roll into production. But in the meantime, there will be plenty of opportunity to catch up with Crowe and Seyfried on the big screen. Having recently wrapped on Seth MacFarlane's A Million Ways to Die in the West, Seyfried is currently shooting a part in Noah Baumbach's follow-up to his critically adored drama Frances Ha, titled While We're Young. She's also attached to Compliance director Craig Zobel's next feature, Z is for Zachariah, and another project with Lovelace writer-directors Rob Epstein and Jeffrey Friedman called The Girl who conned the Ivy League.
As for Crowe, the respected Aussie actor has completed production on the fantasy film A Winter's Tale, the feature directorial debut of A Beautiful Mind screenwriter Akiva Goldsman, as well as Darren Aronofsky's hotly anticipated follow-up to his Academy Award-winning Black Swan, the biblical tale of Noah.
Staff writer at CinemaBlend.
Your Daily Blend of Entertainment News
Thank you for signing up to CinemaBlend. You will receive a verification email shortly.
There was a problem. Please refresh the page and try again.