Amazing, Minimalist Teaser Poster For The Coen Brothers' True Grit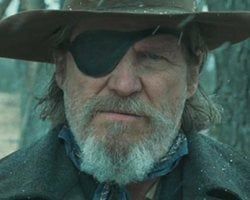 If your jaw dropped when you watched the True Grit teaser trailer and you've got a thing for minimalist posters with an old-timey feel, well, Happy Friday. In Contention has snagged the first look at the teaser poster for the new film by Joel and Ethan Coen, which echoes the feel of Old West wanted posters or circus flyers, with a bullet hole and a stream of red blood to remind you that, well, this is a Coen Brothers movie about Retribution with a Capital R. And hey, does that tagline "Punishment Comes One Way Or Another" remind anyone else of No Country For Old Men's immortal "You Can't Stop What's Coming"? Check it out below (click for the larger version) and we'll talk after.
True Grit, as you probably know by now, is an adaptation of the same novel that inspired the 1969 John Wayne film of the same name. Jeff Bridges will be slipping on the eyepatch to play Wayne's role of Rooster Cogburn, a former U.S. Marshal hired by 14-year-old Mattie Ross (newcomer Hailee Steinfeld) to track down the man who killed her father. Josh Brolin and Matt Damon, as you can see above, also star. The movie doesn't come out until Christmas, so do your best not to jump out of your skin with anticipation before then. And now, because I like you and I'm excited too, the teaser trailer embedded again below for your viewing pleasure.
Your Daily Blend of Entertainment News
Staff Writer at CinemaBlend