Angelina Jolie's Spy Movie Will Have Attitude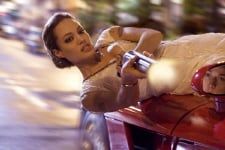 A couple of months ago we told you that Angelina Jolie was replacing Tom Cruise in the spy thriller Edwin A. Salt. I jokingly…jokingly now…said it would be funny if they renamed the character Edwina. Well, it wasn't so funny to the producers, who went ahead and renamed the main character Edwina A. Salt, according to the MTV Movies Blog.
Producer Lorenzo di Bonaventura also told MTV that the movie would start filming in February and would be out late next year (or maybe early 2010.) In a surprising change, the producer of the movie thinks it's going to be great! Bonaventura said, "It's going to be a very exciting film…It's a big spy movie on a big canvas with a lot of attitude." Those are always better than the small spy movies on the small canvas with no attitude. Oh wait, no they aren't.
Jolie was already in a spy movie called Mr. and Mrs. Smith, which was kinda crappy. If you are worried that this movie will suck like that one did, fear not. According to Bonaventura, director Phillip Noyce is planning on making a good movie instead. He notes, "This film is much more serious and about real jeopardy. How are we going to get out of this? Who is who? And all the great things you love in an intense spy movie. This has it, and a lot more attitude on top of it." I wonder if this movie will have any attitude.
Your Daily Blend of Entertainment News
Thank you for signing up to CinemaBlend. You will receive a verification email shortly.
There was a problem. Please refresh the page and try again.