Anna Faris Snags The Lead Role In Sacha Baron Cohen's The Dictator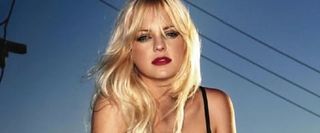 We let you know last week that a trio of funny women-- Kristen Wiig, Anna Faris and Gillian Jacobs-- were all in the running to star opposite Sacha Baron Cohen, the comedy he'll be starring in at Paramount. Now Deadline reports that one of them has taken the lead. Anna Faris, who will be making a big bid at move stardom in the romantic comedy What's Your Number? later this year, has been offered the lead role and is now in negotiations to make it a reality.
They've also got more clear details on the two different roles Baron Cohen will play and how Faris's character will fit into the story. The lead character is a ruthless dictator of a third world country who arrives at the United Nations, only to find he's been overthrown by his second-in-command and replaced by a lookalike, a naive goatherder. Left adrift the dictator wanders New York and meets Faris's character, the owner of a health food store. Apparently there's only "a little romance" involved, which suggests this won't be your typical fish-out-of-water rom-com, but something a little more oddball and, well, what you would expect from Sacha Baron Cohen.
The movie is set for a release on May 11 next year and apparently is budgeted at $58 million-- a ton of money for an original comedy, even considering that a solid $20 million is going to Baron Cohen alone. It'll be a huge platform for Faris, who's been on the verge of serious stardom for so long that it's definitely time for it to actually happen.
Staff Writer at CinemaBlend
Your Daily Blend of Entertainment News
Thank you for signing up to CinemaBlend. You will receive a verification email shortly.
There was a problem. Please refresh the page and try again.