Borat 2 Just Picked Up Some Major Oscar Nominations, And I Couldn't Be More Excited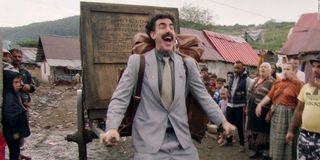 2020 gave film fans a number of great films, but one that truly left an indelible impression is Borat Subsequent Moviefilm (or Borat 2). The highly anticipated sequel more than lived up to the legacy of its predecessor, and some may argue that it actually surpassed it. When the film came out, many were likely pegging it for awards buzz, though it was too early to call at that. But since the start of awards season, the film has received acclaim and a few notable honors. Now, Borat 2 is getting some Oscars love, as the film has picked up a couple of massive nomination that have me incredibly excited!
During the reveal of the 2021 Academy Awards nominations this morning, it was announced that newcomer Maria Bakalova had been nominated for Best Supporting Actress for Borat Subsequent Moviefilm: Delivery of Prodigious Bribe to American Regime for Make Benefit Once Glorious Nation of Kazakhstan. The movie standout played the role of Borat's erratic but sweet daughter, Tutar.
Not only that, but the film has also received a nomination for Best Adapted Screenplay. That credit goes to Sacha Baron Cohen, Anthony Hines, Dan Swimer, Peter Baynham, Erica Rivinoja, Dan Mazer, Jenna Friedman, Lee Kern and Nina Pedrad. Needless to say, this film was a true collaboration of various writing and storytelling talents.
Both are awards are incredible but, for me, the one that's most gratifying is the Best Supporting Actress nod for Maria Bakalova. Coming into a high-profile production can be daunting for any star but for the up-and-comer to come into a movie like Borat and knock it out of the park is truly impressive. The actress really threw herself into the role, and this included some pretty "gross" prep. What makes Bakalova's performance most impressive is that it's not only comedic but incredibly sincere and grounded at times. Tutar's over-the-top antics were almost always anchored by her love for her father.
It's easy to see why the on-screen relationship worked so well when you consider just how close Maria Bakalova is with co-star Sacha Baron Cohen. The two forged a strong partnership and made for a hilarious on-screen duo. But Baron Cohen also became protective of his movie daughter, especially when it came to prepping for the film's controversial Rudy Giuliani scene.
It would have also been cool to see Sacha Baron Cohen snag a Best Actor nod for his performance as the titular character, given how he seamlessly dove back into the role of the Kazakh journalist -- and put himself in some pretty serious situations. Though with such a tight race in that category, one can understand his exclusion. Still, Cohen did manage to land a Best Supporting actor nod for his role as Abbie Hoffman in The Trial of the Chicago 7.
Borat 2's nominations are a true joy to see. While the film was definitely a satirical comedy, its biting social commentary likely hit home for quite a few viewers. As with the first film, the movie shed light on various aspects of the United States, which may have been a bit eye-opening for some.
It'll be interesting to see how the film fares come awards night. But regardless of how it does, the two awards nominations are serious accomplishments, not only for the movie itself but for the comedy genre as a whole.
Borat Subsequent Moviefilm is now available to stream on Amazon Prime (opens in new tab).
Covering superheroes, sci-fi, comedy, and almost anything else in film and TV. I eat more pizza than the Teenage Mutant Ninja Turtles.
Your Daily Blend of Entertainment News
Thank you for signing up to CinemaBlend. You will receive a verification email shortly.
There was a problem. Please refresh the page and try again.