Anne Hathaway Joining Tobey Maguire In Tokyo Suckerpunch?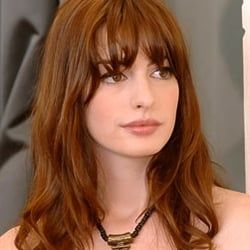 Anne Hathaway seems dead set lately on not being shoved into one genre, getting serious one minute in Rachel Getting Married then going goofy in a musical cameo on Saturday Night Live. And now she's going for action? Ed Solomon, the writer of the upcoming Imagine That, said during interviews for the film that Hathaway will join Tobey Maguire in his next project, an adaptation of the novel Tokyo Suckerpunch.
As quoted by SciFi Wire, Solomon said that Hathaway will play the editor of Maguire's character, a guy who writes a graphic novel about himself in Tokyo, then heads off to Japan in search of his ideal woman. "He goes there with his editor, to be played by Anne Hathaway, and ends up it's a love story about him and Anne Hathaway, basically, and it's really about a guy figuring out what matters to him."
Solomon is the first to report Hathaway's casting, but presumably the writer wouldn't be so in the dark that he'd talk about nonexistent casting. Look for a confirmation of her participation in the next few days. The project sounds delightfully weird, especially given the oddball pairing of Maguire and Hathaway. He's got to get himself away from Spider-Man and she's got to continue proving what chops she has. Sounds like this project is an ideal opportunity for both.
Your Daily Blend of Entertainment News
Staff Writer at CinemaBlend