Argo Writer Shopping Another Fantastical True Story For A Film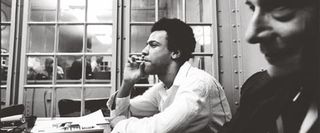 Joshuah Bearman discovered a gold mine of a story when he learned about the true story behind what was called the Canadian Caper, when six Americans were hiding out at the Canadian Ambassador's house during the Iran Hostage Crisis in 1980 and were rescued under absolute cover. When the mission was declassified in 1997, the CIA's role in the effort was revealed, as was the fact that it all revolved around the fake production of a movie called Argo, which was used as cover to get the six Americans out of the country.
Berman's story about the mission in Wired Magazine (seriously, read it, it's great) eventually caught the attention of George Clooney and then Ben Affleck, who turned it into the real movie Argo, opening this Friday. Bearman is credited on the poster with the origin of the story-- as he told Gawker, he negotiated for his credit to be placed close to Ben Affleck's beard-- and now Berman is turning the likely success of Argo into another movie project.
According to Deadline Bearman's Playboy article titled "The Big Cigar" is now being shopped for a movie adaptation by UTA. The story, believe it or not, is about another fake movie to help smuggle someone out of a country. Easy Rider producer Bert Schneider helped develop a movie project specifically to help Black Panthers co-founder Huey Newton leave the United States and escape to Cuba. Though Newton is a fascinating figure on his own, the film will largely focus on Schneider, who also helped fund the activist Abbie Hoffman and was personal friends with Newton. Whether the film project gets sold will depend on how Argo performs this weekend, but I'm pretty happy to bet on its success, and assume we'll see this movie fairly soon as well.
Staff Writer at CinemaBlend
Your Daily Blend of Entertainment News
Thank you for signing up to CinemaBlend. You will receive a verification email shortly.
There was a problem. Please refresh the page and try again.