Arthur Christmas Teaser Trailer: It's Not March Of The Penguins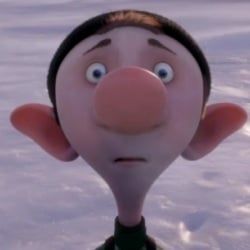 We haven't even gotten through Christmas 2010 yet, but if you're going to start an advance marketing campaign for a 2011 holiday movie you may as well start now, before everyone starts recoiling at the sight of Santa and his eight tiny reindeer. Thus we have the teaser trailer for Arthur Christmas, a new offering from the British Aardman Studios featuring the voice work of James McAvoy as Santa's bumbling, overenthusiastic son Arthur.
The teaser starts with a pitch-perfect Morgan Freeman impersonator doing a March of the Penguins-style voiceover that accidentally reveals a frantic elf who wants to hide the existence of Santa's workshop, and the excitable Arthur who's ready to spill all the beans. I may just be imagining things but it sounds like McAvoy-- always gifted with accents-- is voicing both characters. Take a look at it below, and bear in mind that Aardman is the studio that has brought us all the Wallace and Gromit movies plus Flushed Away. As promising as this looks, there's probably only better stuff to come. Arthur Christmas hits theaters November 23 next year. Below the trailer you can see the film's synopsis, snagged by Slashfilm, which explains where other voice talent like Hugh Laurie, Bill Nighy and Jim Broadbent will fit into the story.
Your Daily Blend of Entertainment News
Staff Writer at CinemaBlend