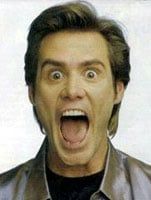 After a brief hiatus from comedy, Carrey is back to tickling our funny bones. And he's bringing Ben Stiller with him.
According to Variety, the wacky duo are in early talks to team up for a new 20th Century Fox comedy titled Used Guys. Stiller is one of the producers of the project, re-teaming with director Jay Roach (Meet The Fockers). David Guion and Michael Handelman are writing the script based on an original script by Mickey Birnbaum.
Used Guys is a futuristic tale where men become extinct after consuming an enhancement drink that wipes them out. In turn, women are running the Earth, skyrocketing the feminist movement to new heights. Carrey and Stiller will play sex clones, existing to please the ladies, but they are replaced by better models that can actually listen and get the women off. After being deemed obsolete, they make a mad dash towards a male nirvana aptly called Mantopia.
Neither of them can compete with Gigolo Joe, but I wish them good luck on their quest. Shooting will begin next spring.
Your Daily Blend of Entertainment News
Thank you for signing up to CinemaBlend. You will receive a verification email shortly.
There was a problem. Please refresh the page and try again.