Banderas And Depp Enter Sin City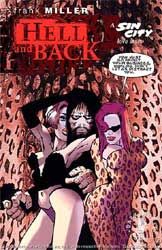 Robert Rodriguez and Frank Miller have been waiting to get started on Sin City 2 for more than two years now, and they're still waiting. In a recent interview with MTV director Robert Rodriguez admits they have a script, but they're still just waiting.
While waiting, he drops some new hints on what the third Sin City movie may be about. That's right, they're planning a whole series of them… assuming the second one ever gets done. Rodriguez says Sin City 3 will revolve around the Sin City graphic novel "Hell and Back", the story of a brooding artist named Wallace who is drugged repeatedly and wanders through the story hallucinating. With this new story may come some exciting new castmembers too. Rodriguez says Johnny Depp may play Wallace.
Rodriguez is also looking to get his old pal Antonio Banderas in Sin City 3. Antonio apparently told Robert he'd play anything in the movie he was so excited about it. "I'll be the hunchback," Banderas said. So Frank Miller and Rodriguez are looking through the cast trying to find a place he might fit. It could be a challenge finding a place for a guy whose accent makes him almost impossible to understand, and he's much too sexy to play a hunchback… unless the hunchback likes to wear his shirts unbuttoned down to his navel.
Your Daily Blend of Entertainment News