Barbra Streisand Considering A Striptease Musical For Joel Silver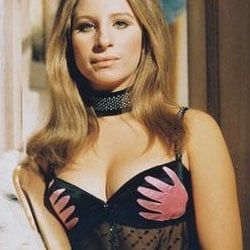 Barbra Streisand hasn't made a legitimate movie since The Mirror Has Two Faces back in 1996. This statement is only true if, like me, you refuse to acknowledge the existence of those Focker sequels. The nearly 69-year-old actress, singer, and occasional gay icon may be about to change that by starring in a movie for the producer of The Matrix. Don't worry, she won't have to know Kung Fu.
THR says super-producer Joel Silver is heading up an adaptation of the 1959 Broadway musical Gypsy and has Barbra Streisand in talks to star. Apparently they're still a long way from actually getting her to sign on the dotted line, meetings with lyricist Steven Sondheim and others are ongoing, as a means of convincing her this adaptation is where she belongs.
Here's the problem with this Gypsy idea. It's sort of already been done. The original play (based on the memoir by Gypsy Rose Lee) has an awful lot in common with the already failed Cher/Christina Aguilera musical Burlesque, in that it's about a young burlesque dancer and her relationship with an older, wiser striptease stage mom figure. Except of course, these days Barbra is considerably more classy than Cher and unlikely to strut around screen in some sort of age-inappropriate lingerie. That makes it pretty hard to imagine her involved in anything as unseemly as striptease, especially at her current age. Hey this movie's sounding better than Burlesque already.
Your Daily Blend of Entertainment News