Behold The Awful Majesty Of The King's Speech Poster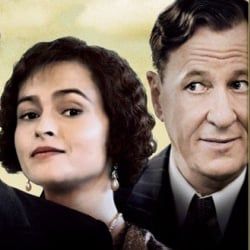 This morning I finally saw The King's Speech, the movie that was widely considered to be a frontrunner for Best Picture even when all we know was that Helena Bonham Carter, Geoffrey Rush and Colin Firth were all in it, and who doesn't want to give those three a bunch of Oscars? As it turns out, the movie really is terrific-- I'll be writing much more about it in today's Oscar Eye column, so stay tuned-- and I can't wait to see it enter the Oscar race and entertain even the people who think they can't possibly stomach another movie about a British monarch (trust me, you can when it's this good).
Coming out of this morning's screening pretty excited about the movie, I nearly did a spit take when I saw its first American poster, which debuted today at Moviefone. For a movie that's so well-designed, well-directed and well-acted, the poster is a complete disaster, a mess of bad Photoshop and airbrushed wrinkles and a nonsensical tagline that makes the whole thing look painfully dull. The great thing about The King's Speech is that it's not at all the kind of standard-issue prestige film you dread, and yet that's exactly what the poster primes you to expect. It's not just a bad marketing decision, it's a huge missed opportunity in trying to get audiences to give this a shot who might not normally be lured in.
Luckily The King's Speech can't exactly be torpedoed by this-- it's represented by the Weinstein Company, who are usually marketing geniuses, and it has the quality to keep up good word of mouth despite all the other fall movie competition. Too bad anyone who wants to see it will have to look past the awful poster first. Take a look below, click on it for the full version at Moviefone, and then immediately forget about it and take my word for it: this movie is actually worth seeing.
Your Daily Blend of Entertainment News
Staff Writer at CinemaBlend