Fantastic Beasts' Grindelwald: 6 Actors Who Should Replace Johnny Depp In The Next Movie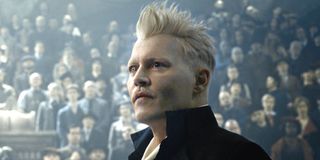 On Friday, the shocking news dropped that Johnny Depp, who had been set to reprise his role of Gellert Grindelwald in Fantastic Beasts 3, was out of the movie. Following a ruling against Depp in a U.K. libel lawsuit, in which a judge found allegations of abuse by Depp's ex-wife Amber Heard to be credible, Warner Bros. apparently asked the actor to leave the production, and he agreed to do so. This decision has also pushed back the release, and therefore the production, of the new film, giving the studio some time to find a new lead villain for the Harry Potter spinoff franchise.
So who should it be? Where should the production of Fantastic Beasts 3 look for a new Grindelwald? Considering that the vast majority of actors in the franchise are English, and the Harry Potter movies already used basically all of them at one time or another, the pickings feel slim, but there are still some names worth considering. What does seem certain is that the film will want to replace a name like Johnny Depp with another big name. Here a few people to think about that could do the job well.
Ewan McGregor
It's almost hard to believe that Ewan McGregor made his way through the entire Harry Potter franchise without finding a role, but he did, and so perhaps its his time to join the larger Wizarding World by becoming the new Grindelwald. McGregor is several years younger than Johnny Depp, but he's only a couple years older than Jude Law, and considering that Dumbledore and Grindelwald are supposed to be contemporaries, this actually works out better. The biggest hurdle to this choice might be that Ewan McGregor has his own high profile project, the Obi-Wan Disney+ series, and with so much about both projects currently up in the air, scheduling might not allow this to happen. But if it did, it could be amazing.
Benedict Cumberbatch
Benedict Cumberbatch hasn't been part of the Harry Potter franchise as of yet. However, he has played a sorcerer capable of great magical ability. Isn't Grindelwald really just an evil Doctor Strange? Well, maybe not exactly. And maybe, because Cumberbatch is already playing a wielder of magical abilities in another franchise, he won't be interested in this one, but he could probably do it. And Cumberbatch is almost always the good guy. He hasn't played a lot of really evil characters, and seeing him play the bad guy could be a lot of fun. Similar to Ewan McGregor, Benedict Cumberbatch is much younger than Johnny Depp, but he's not so young that it should be a deal breaker.
Joseph Fiennes
In the original Harry Potter movies, the big bad, Lord Voldemort, was played by Ralph Fiennes, and that worked out pretty well, so maybe the solution to recasting Grindelwald is to keep things in the same family. Ralph was a great Voldemort, so let's bring in brother Joseph Fiennes to play the villain of the Fantastic Beasts franchise. Age wise, he's actually slightly older than Johnny Depp, but that shouldn't be a deal breaker, he doesn't look all that old. Fiennes has been making a solid career for himself on television in recent years, but it's been far too long since he had a solid film role, and this could be it.
Jonathan Rhys Meyers
This one might be one of the longer shots as the youngest name on the list. At 43 Jonathan Rhys Meyers is more than a decade younger than Johnny Depp, and about four years younger than Jude Law. That wouldn't be a deal breaker, but the bigger strike against Jonathan Rhys Meyers, which is usually a good thing for him, is that he looks even younger than he is. Here, the Tudors star would look like a kid compared to the older Jude Law when they're supposed to be around the same age. Still, it's not like this couldn't be worked around. Make-up is a thing, as is magic, which is sort of a big part of these movies. Maybe Grindelwald just wanted to look younger. Normal people get face lifts, wizards just drink a potion and get younger.
Colin Firth
Colin Firth is another great English actor that we still can't believe wasn't in the Harry Potter franchise and yet, he wasn't (I double checked). He's got the opposite problem of Jonathan Rhys Meyers in that he's the oldest person on this list. Can you put Colin Firth and Jude Law on screen together and make people believe they might have been in school together? I'm not sure, but if anybody could make you buy it with acting skill alone, it's Colin Firth. He's great at what he does and he would be great as Grindelwald. And he's another actor who doesn't get to play the bad guy nearly often enough.
Colin Farrell
And then finally we have what is either the longest shot of them all or possibly the choice so obvious that all others should be pushed to the side. I'm honestly not sure which. Colin Farrell played the role of Percival Graves in Fantastic Beasts and Where to Find Them. He's the Auror on the hunt for the Obscurial that turns out to be Ezra Miller's Credence. However, in the end we learn that Graves has actually been Gellert Grindelwald in disguise the entire time. So if Grindelwald transformed out of being Colin Farrell once before, let's change him back. Why would this happen in the story? I have no idea, but there's a poetry to it that makes it feel right. And honestly, Colin Farrell was a better antagonist in the first movie than Grindelwald was in the sequel anyway.
With Fantastic Beasts 3 now looking at a summer 2022 release date, the movie will likely start filming in the late spring or early summer of 2021. That gives the filmmakers some time to find a replacement for Johnny Depp. Having said that, I would expect that we could still get an announcement very soon. Warner Bros. would probably prefer people stop talking about the guy who is no longer part of the movie and instead focus on the new person who is, and the faster that new person is found, the better.
Who do you think should play Grindelwald in the next Fantastic Beasts, one of these names, or somebody else? Let us know in the poll below.
This poll is no longer available.
Your Daily Blend of Entertainment News
Content Producer/Theme Park Beat
CinemaBlend's resident theme park junkie and amateur Disney historian. Armchair Imagineer. Epcot Stan. Future Club 33 Member.