Blue Jasmine And Captain Phillips Returning To Theaters For Oscar Season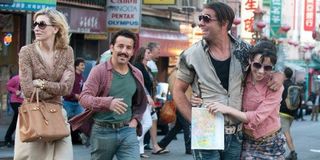 What's that? Despite all the critical acclaim you missed Blue Jasmine and Captain Phillips when they were in theaters? No, no! Don't cry. It's all going to be okay, because Sony is bringing both films back to theaters for award season. Hitflix reveals Blue Jasmine will reopen this weekend in 300 theaters across the US, while Captain Phillips's rerelease will begin on January 15th, 2014, in 1,000 theaters. Notably that means the Tom Hanks vehicle will touch down the day before the Academy Award nominations are to be announced.
If you follow the Oscars at all, you probably notice that it's often the winter releases that get the most intense coverage come award season. It's partially because these are the shiny, new releases, and partially because these are often the ones studios are pushing hardest to contend at the Oscars. But films with earlier releases can remind us all how great they really are by coming back into theaters for a sort of victory lap that could well help them regain award season steam. And as the SAG nominations this morning confirmed, if you missed either of these dramas, you missed a couple of the strongest performances of the year.
Inspired by the real-life Somali pirate adventure, Captain Phillips stars Hanks as the titular merchant mariner whose container ship the MV Maersk Alabama was taken siege by Somali pirates in April of 2009. Phillips nobly did whatever he could to keep his men out of harm's way during the confrontation, and this included becoming a hostage when the pirates fled. Hanks has been widely praised for his performance as this salty Massachusetts-born captain. Our own Eric Eisenberg said in his review, "By the very end you feel the entire weight that has been slung on to Phillips' shoulders; in the final moments of the film Hanks goes into emotional overdrive, and the results are gutting."
But Hanks is not the only performer gaining award season sizzle from this film. His co-star Somali-American actor Barkhad Abdi, who played the conflicted pirate Muse, earned a Best Supporting Actor nod this morning from SAG, which means he--as well as Hanks--could be a contender come Oscar night.
As for Blue Jasmine, it's proved another little Woody Allen movie that could. With an estimated budget of just under $18 million, the independent dramedy went on to earn heaps of critical praise as well as nearly $75 million worldwide. Much of its success can be attributed to Cate Blanchett, who was absolutely astounding as the titular Jasmine, a once wealthy woman who is struggling to cope with the lost of her fortune and husband. In my four and a half star review for the film, I said of her performance, "Blanchett shoulders this movie with a deft comedic touch and a trembling vulnerability that not only makes Jasmine unquestionably compelling, but also makes the actress a force to be reckoned with come Oscar time."
So basically take this second chance to see these rightly acclaimed movies in theaters while you can!
Staff writer at CinemaBlend.
Your Daily Blend of Entertainment News
Thank you for signing up to CinemaBlend. You will receive a verification email shortly.
There was a problem. Please refresh the page and try again.