Brad Pitt And Doug Liman Wanted For Warner Bros. Sci-Fi Thriller All You Need Is Kill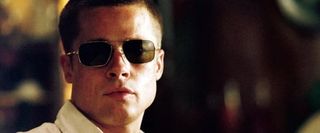 Sorry, Doug Liman. You won't be going to the moon, after all. The Fair Game director, who proved himself as an action director with the first Bourne adventure and the playful Mr. & Mrs. Smith, has been trying to mount Luna, a space-heist thriller about former astronauts stealing valuable tools to help them get back to the moon where they'd hoped to "acquire an energy source." But Vulture now says the project is dead, because Paramount and co-financier Skydance pulled the plug on what potentially was going to be a $100 million-plus endeavor.
That's bad news for Andrew Garfield, Zoe Saldana, Chris Evans and Jake Gyllenhaal, as all had been attached to the project in various stages of casting. But it's potentially good news for Liman and his Smith co-star, Brad Pitt. Vulture is reporting in its story that Warner Bros. has offered the Moneyball star the lead role in All You Need Is Kill, which they'd like Liman to direct now that Luna has been grounded.
Kill adapts Hiroshi Sakurazaka's manga comic about a young soldier fighting in an intergalactic conflict who dies on the day the aliens invade our planet. But in a strange, Twilight Zone-inspired plot twist, the soldier is repeatedly resurrected to the day before the day he dies, allowing him to fight on. The site says rewrites have corrected issues the studio had with Dante Harper's script, and they're ready to go ahead of Pitt's interested.
Plot wrinkles aren't the only problem, though. Pitt also is circling The Mission, a story of heroic Navy SEALS fighting to rescue 15 hostages from FARC rebels. Vulture says The Fighter director David O. Russell wanst to jump to Mission as soon as he concludes The Silver Lining Playbook, which he's currently prepping with Bradley Cooper. Plus, there's the Pitt issue of him potentially earning an Oscar nomination for his work in Bennett Miller's Moneyball, which could grant the already powerful actor even more clout to make the movies he wants to make. Needless to say, Pitt's a man in demand these days, and we'll have to see if he reunites with Liman for Kill, takes a chance on Russell, or heads in an altogether-different direction.
Movie junkie. Infatuated with comic-book films. ReelBlend cohost. Resident dad. Extroverted introvert. Wants to see the Snyder Cut. Managing Director at CinemaBlend.