Independence Day And 11 Other Alien Invasion Movies To Stream Or Rent Online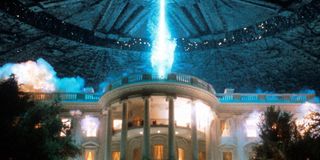 CinemaBlend participates in affiliate programs with various companies. We may earn a commission when you click on or make purchases via links.
In a world seemingly plagued by one global catastrophe another, it always nice to have the privilege of escaping into movies available to stream or rent digitally. For instance, how about movies in which the world is plagued by a global catastrophe, such as alien invasions?
If you want to make an explosive disaster flick, spine-tingling horror thriller, or even a thought-provoking societal commentary, you can never go wrong with flying saucers descending from beyond the clouds to put humanity to the ultimate test. Hell, alien invasions have even proved to be a means for hilarious lunacy in movies like Men In Black, Mars Attacks!, and the unequivocal masterpiece Killer Klowns for Outer Space.
For this list, however, we mean serious business... well, mostly. The following 12 suspenseful classics will leave you haunted by the question, "Are we alone?"
Independence Day (1996)
It may be named after a day honoring America's liberation, but director Roland Emmerich's B-movie extravaganza depicts it as one bleak moment in, not just the US but, the Earth's history. After a New York satellite technician (Jeff Goldblum) discovers an imminent invasion by aliens some big-ass flying saucers, he teams up with a young, skilled military pilot (Will Smith) to take back the world's freedom. Independence Day would mark the beginning of Big Willie's long reputation as one of Earth's greatest defenders.
Where To Rent Online: Amazon
The Day The Earth Stood Still (1951)
I have always been a firm advocate for the belief that the greatest science fiction stories are those with an underlying theme reflecting our own reality beneath the fantastic spectacle and Director Robert Wise's iconic classic is one such picture. In a unique twist on the alien invasion stereotype way ahead of its time, an otherworldly visitor named Klaatu (Michael Rennie) in human form and his robot companion Gort (Lock Martin) come to Earth with a message, not as a threat to humanity but in hopes to save it. Based on a short story by Harry Bates, The Day the Earth Stood Still was recognized for its social commentary at the 1952 Golden Globes, where it was awarded the prize of Best Film Promoting International Understanding.
Where To Rent Online: Amazon
Invasion Of The Body Snatchers (1956)
Jack Finney's thriller serial has been adapted to film numerous times (and counting). Yet, I would still cite director Don Siegel's 1956 original, starring Kevin McCarthy, as my favorite, especially for how it served as a reflection of the Cold War paranoia that plagued the United States around the time of its release. While Finney always insisted the political allegory was never his intention, it is easy to see how the story of a small town overrun by alien duplicates replacing the humans they resemble could be taken as a warning that the person you think is a friend could easily be your enemy.
Where To Stream: Crackle
Where To Rent Online: Amazon
Close Encounters Of The Third Kind (1977)
In 1964, a 17-year-old Steven Spielberg independently produced and released his first directorial feature, Firelight, about human beings who believe the strange sightings they find in the sky are aliens. After hitting it big with Jaws in 1975, the filmmaker took the idea of Firelight, added a Hollywood-level budget, and Close Encounters of the Third Kind was born. This timeless, spectacular drama, whose title refers to the first-hand witnessing of a UFO and its inhabitants, deservingly won Vilmos Zsigmond an Academy Award for his gorgeous photography of the film's ahead-of-its-time visual effects.
Where To Stream: Crackle
Where To Rent Online: Amazon
The Thing (1982)
Speaking of Steven Spielberg and alien visitors, the filmmaker's hugely successful E.T. the Extra-Terrestrial has been openly blamed by director John Carpenter for the initial commercial and critical failure of his much darker creature feature, The Thing, which came out just two weeks after Spielberg's family film. Fortunately, this remake of Howard Hawks' The Thing from Another World which offers a more faithful interpretation of the suspenseful, paranoia-fueled source material, has since taken on a new life as one of the finest films in the sci-fi/horror crossover genre. Kurt Russell's struggle to figure out which of his fellow Antarctic researchers is a shape-shifting alien in disguise, along with the timelessly convincing practical effects, never fails to put a lasting chill down your spine.
Where to Stream: Starz (opens in new tab)
Where To Rent Online: Amazon
They Live (1988)
Six years after The Thing, John Carpenter took a comparatively less earnest, but still undeniably creepy, approach to the "alien enemy hiding in plain sight" concept for his adaptation of Ray Nelson's short story "Eight O'Clock in the Morning." They Live stars former wrestler "Rowdy" Roddy Piper as a drifter who discovers, with the help of a special pair of glasses, that the people around him are not people at all, but aliens in disguise. Unlike the similarly themed Invasion of the Body Snatchers, the underlying social commentary in this film is very much intentional, with how the extra-terrestrials' use of subliminal messages in media advertisements mirrors... well, the exact the same thing happening in our reality.
Where To Rent Online: Amazon
Signs (2002)
M. Night Shyamalan has a weird career, starting off with a promising reputation early thanks to The Sixth Sense and eventually becoming known an enemy to cinema itself with missteps like The Last Airbender. I would actually consider Signs, starring Mel Gibson as a widowed former pastor who slowly realizes his suspicions of alien activity are all too true, to be one of his career highlights for its deliciously absorbing slow burn and effectively chilling scares. On the other hand, I can understand how some might be a little underwhelmed by the "twist" ending for its reliance on a nonsensical premonition and how it shamelessly borrows from the source material of our next entry...
Where to Stream: Max Go
Where To Rent Online: Amazon
War Of The Worlds (2005)
Also similarly to Signs, there is a good chunk of Steven Spielberg's fanbase that sees this disaster movie as, well, a bit of a disaster itself in comparison to the director's stronger sci-fi films in the past. Personally, I would have done the unthinkable and set my adaptation of H.G. Wells' revolutionary 1897 novel in the same time period it was released because imagine how much scarier an alien invasion would be then! However, I still enjoy War of the Worlds' plot involving an irresponsible divorced father (Tom Cruise) tasked with protecting his estranged children during a worldwide catastrophe, as well as find it effectively thrilling throughout, and I challenge anyone to deny those tripods don't look awesome.
Where To Stream: HBO Now
Where To Rent Online: Amazon
Attack The Block (2011)
Before he defended the galaxy as a member of the Rebel Alliance, John Boyega defended he and his friends' South London apartment building against a savage extraterrestrial race. Comedian Joe Cornish was nominated for a BAFTA for his debut writing and directing effort about a group of inner city children and the young woman they rob (Jodie Whittaker) who team up after they discover an alien invasion is brewing right in their urban neighborhood. Attack the Block is not without its comedy, but you will be giggling out of excitement far more often than its jokes.
Where To Stream: Crackle
Where To Rent Online: Amazon
Edge Of Tomorrow (2014)
In this additional example of Tom Cruise's attempts to save the planet from aliens, he plays William Cage, a cowardly soldier who's reluctantly pulled into combat against the squid-like creatures that have invaded much of the planet. Fortunately, Cage has been incidentally imbued with the power of spontaneous resurrection every time he dies, allowing him enough time to train with Rita Vrataski (Emily Blunt) to master his fighting skills and defeat our non-human enemy. Edge of Tomorrow, based on the manga All You Need Is Kill, is a fun, action-packed, sci-fi riff on Groundhog Day that has since earned a cult following and an upcoming sequel... whenever that will be.
Where To Rent Online: Amazon
Arrival (2016)
If extraterrestrial ever landed on Earth, the human race would immediately go into a state of panic and confusion, expecting the worst, but director Denis Villeneuve's unique sci-fi drama Arrival imagines the world responding with a question: what is their purpose here and how do we figure that out? That is what linguist Louise Banks (Amy Adams), along with physicist Ian Donnelly (Jeremy Renner), are recruited by Colonel Weber (Forest Whitaker) to figure out. This Oscar-winning adaptation of Tim Chiang's short story "Story of Your Life" is a gripping masterpiece that puts the humanity back into alien movies.
Where To Rent Online: Amazon
A Quiet Place (2018)
If you have never given yourself the opportunity to watch a silent film, this might be a good starting point. Real-life spouses Emily Blunt and John Krasinski (who also co-writes and directs this hit nail-biter) play a married couple who, to protect their children, must live in complete silence after the world has become overrun with blind, but sound sensitive, monsters seemingly from a distant planet. However, none of that is nearly as important as the relentless, raw emotion A Quiet Place brilliantly invokes by subtly forcing you to not make a sound.
Where To Stream: Amazon Prime (opens in new tab) and Hulu (opens in new tab)
Where To Rent Online: Amazon
So, what do you think? Are these Earth's finest alien invasion movies, or do you feel my brain was abducted? Let us know in the comments and check back or more information on sci-fi movies and other streaming recommendations here on CinemaBlend.
This poll is no longer available.
Your Daily Blend of Entertainment News
Jason has been writing since he was able to pick up a washable marker, with which he wrote his debut illustrated children's story, later transitioning to a short-lived comic book series and (very) amateur filmmaking before finally settling on pursuing a career in writing about movies in lieu of making them. Look for his name in just about any article related to Batman.
Your Daily Blend of Entertainment News
Thank you for signing up to CinemaBlend. You will receive a verification email shortly.
There was a problem. Please refresh the page and try again.