Brad Pitt Joining End Of Watch Director For World War II Drama Fury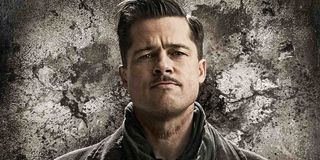 "It's not your father's WWII movie."
That's probably been said about every World War II movie made since the mid-70s or so, with the possible exception of Saving Private Ryan. But the old chestnut is back again to describe Fury, a drama set during the global conflict that will star Brad Pitt, who was seen not too long ago killing Nat-zees in what was definitely not your father's World War II movie, Inglourious Basterds.
Fury will be directed by David Ayer who made last fall's gripping found-footage cop drama End of Watch and is also behind the upcoming Ten, starring Arnold Schwarzenegger. Describing Fury to Deadline Ayer said he hopes to ""bring a fresh execution to the genre. What these men went through is worthy of a complex, honest portrayal. This will have incredible, visceral action and complex rich characters. I plan to bring tank combat to life in a way that lands with a modern audience." The story follows a group of five American soldiers on a tank called Fury, doing battle against what remains of the German army.
The next time we see Pitt he'll be fighting a bunch even more determined and terrifying than Nazis, fending off the global zombie invasion in World War Z. He's also set for a role, though maybe not necessarily a huge one, in Twelve Years A Slave, teaming up with director Steve McQueen and a huge cast that includes Michael Fassbender, Chiwetel Ejiofor, Benedict Cumberbatch, Paul Dano and more.
Your Daily Blend of Entertainment News
Staff Writer at CinemaBlend
Your Daily Blend of Entertainment News
Thank you for signing up to CinemaBlend. You will receive a verification email shortly.
There was a problem. Please refresh the page and try again.