Bradley Cooper Is The A-Team's New Face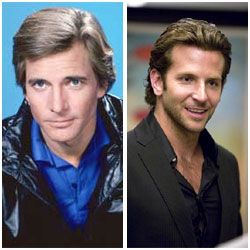 Finally it looks like there's some concrete casting news on Joe Carnahan's A-Team movie. No, we don't know who's taking over for Mr. T. We do however, know who's taking over for Dirk Benedict as the team's de facto ladies man, Face. It's Bradley Cooper.
Cooper's an up and coming comedic actor whom you've probably seen in Yes Man, He's Just Not That Into You, or most recently the trailers for The Hangover in which he's one of the three leads. IESB cornered him promoting his part in The Hangover and when asked if he was playing the Faceman in A-Team Cooper all but admitted his involvement.
If you're at all familiar with the original A-Team series then you know Cooper is a perfect fit. He's got the look and he's already proven he has the comedic chops to pull of quick-witted, action comedy necessary for Carnahan's movie. So that's one down, three more roles to fill. Face is probably the easiest part to cast, how the hell do you replace George Peppard and who could possibly be crazy enough to pull of Murdock? We'll let you know as soon as we know.
Your Daily Blend of Entertainment News
Thank you for signing up to CinemaBlend. You will receive a verification email shortly.
There was a problem. Please refresh the page and try again.