Brett Ratner To Direct Hunting Eichmann, Based On Real Events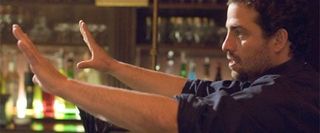 There's no more overused villain than Nazis, but somehow we never get tired of them. They fit any genre, from adventure to drama to sci-fi to comedy. In the world of videogames, the total number of virtual Nazis that have been blown away during the past twenty years rivals the number of stars in the sky. We've tried other go-to baddies over the years, but nobody has ever matched the iconic villainy of Hitler's would-be world empire. Now Hollywood is returning to the Nazi well once more, and this time director Brett Ratner has scooped out a story based on the hunt for the infamous Adolph Eichmann in the decades after World War II.
The movie will be called, appropriately enough, Hunting Eichmann, and Ratner is signed on to direct. Deadline explains that the story is based on real events, following the Israeli Mossad agents who snuck into Argentina on the trail of Eichmann, eventually leading to his capture and execution in 1962. The movie is being scripted by an unlikely writer: Ann Peacock, who, aside from sounding like a character from Clue, is best known for her work on The Chronicles Of Narnia: The Lion, The Witch And The Wardrobe and the Richard Gere/Diane Lane romancer Nights in Rodanthe. Good for her for branching out, I guess.
Depending on the film's tone, it could also be a change in direction for Ratner, whose previous work has been pretty squarely in the "disposable popcorn entertainment" category. Maybe he's trying to play things serious for a while and hope we'll all forget about X-Men: The Last Stand?
Ratner's next flick is Tower Heist, set to hit theaters this Friday, November 4th.
Your Daily Blend of Entertainment News
Thank you for signing up to CinemaBlend. You will receive a verification email shortly.
There was a problem. Please refresh the page and try again.