Rush Hour 4 A Possibility If This Happens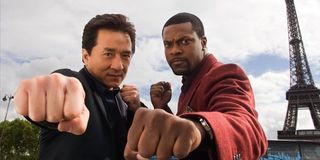 The cross-cultural comedy team up Rush Hour spawned three movies, though there hasn't been one since 2007's Rush Hour 3. In the ensuing years there have been sporadic rumblings that Rush Hour 4 could be in the works, and though he doesn't rule out the possibility, director Brett Ratner says there is one key thing standing in the way: time.
Ratner was at the Television Critics Association summer press tour to promote the National Geographic series Breakthrough, on which he directed an episode. When Slashfilm had the opportunity to catch up with the filmmaker, they asked about Rush Hour 4 he said:
If you're familiar with the franchise, you are well aware that by "Jackie," Ratner means legendary martial artist Jackie Chan. And if you didn't know that, now you do. Along with Chris Tucker, Chan fronts the movies about mismatched cops from different countries, China's dogged Detective Inspector Lee (Chan) and loudmouth Los Angeles Detective James Carter (Tucker), who are forced to work together. The premise is pretty standard buddy cop action-comedy territory—one is stoic one is wacky—but with Chan's particular set of skills, it becomes a lot more fun and entertaining than the familiar plot.
Fans of Rush Hour have been waiting for this for a long time, and while it sounds like it could happen at some point, it's not particularly pressing or imminent. Ratner is all kinds of busy. He's still working on Beverly Hills Cop 4, which he's attached to direct, and is producing a wide array of films, from the Johnny Depp-starring Black Mass and awards contender The Revenant to left of center documentaries like Electric Boogaloo: The Wild, Untold Story of Cannon Films.
For his part, back in 2012 Jackie Chan said that he was retiring from action movies, citing the wear and tear he regularly put his body through for decades. This could also cause a hitch in production. Granted, he clarified his position by saying that he's not done done with action movies, but that he's not going to do as many, or as many of his own stunts, and generally take better care of himself. He is 61-years-old after all.
So while you can be optimistic about Rush Hour 4, maybe don't keep your fingers crossed too tight for it to happen anytime too soon. In the meantime, however, fans should be able to satisfy themselves with the impending Rush Hour television series that's on the way. CBS has an episodic Rush Hour penciled in to debut in the middle of the 2015-2016 TV season, and though Jon Foo and Justin Hines will play Lee and Carter, Ratner assures fans that this does not automatically mean Rush Hour 4 isn't going to happen.
Your Daily Blend of Entertainment News