X-Men: The Last Stand's Brett Ratner Responds To Vinnie Jones' Recent Juggernaut Comments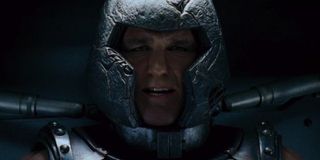 X-Men: The Last Stand has always been a fairly divisive film among comic book fans. Many have cited its loose adaptation of "The Dark Phoenix Saga" and its excessive amount of characters as some of its major flaws. That latter point was recently brought up by Juggernaut actor Vinnie Jones, who claimed that his villainous role was heavily watered down from what he was originally intended to be. Now, The Last Stand director Brett Ratner has chimed in to give his thoughts on Jones' comments.
In a lengthy Instagram post, Brett Ratner stated that Vinnie Jones' claim that he "dissolved and mugged off" Juggernauts role is "inaccurate." Ratner first joked that other mutant villains like Mystique were "easier on the eyes," but he then went on to say that he was unable to add more to the character due to the film's deadline:
Brett Ratner would continue to express his respect for Vinnie Jones and also said that he hopes a standalone Juggernaut film starring Vinnie Jones will be made some day. Until then, he suggested that fans go back and revist the film. You can check out his post below:
Brett Ratner does make a fair point when it comes to the sheer number of villains the film had. Aside from franchise veterans like Magneto and Mystique, X-Men: The Last Stand also introduced new faces, such as Calisto, Multiple Man and Kid Omega.
Still, it's hard to deny that Vinnie Jones did somewhat come up with the short end of the stick when it came to screen time. Throughout the film, the character mostly served as a source of muscle for Magneto's reformed Brotherhood of Mutants. His biggest moment would arguably come in the third act when he engaged in a battle with X-Man Kitty Pryde.
With so many characters to service, it's understandable that Juggernaut wouldn't get as much time to shine. Nevertheless, one still has to wonder what the original plans for the character were when Vinnie Jones first signed on. Comic book readers likely know that in the comics, Juggernaut (or Cain Marko) is Charles Xavier's stepbrother. This relationship was never mentioned in the film, but there's always the possible that it was going to be explored.
There's a firm chance that we'll never know what was actually planned for Vinnie Jones' take on Juggernaut, which may be disappointing for some fans. But on a brighter note, Marvel Studios' inevitable X-Men reboot has the potential to rectify things.
X-Men: The Last Stand is currently available to stream on Disney+.
Covering superheroes, sci-fi, comedy, and almost anything else in film and TV. I eat more pizza than the Teenage Mutant Ninja Turtles.
Your Daily Blend of Entertainment News
Thank you for signing up to CinemaBlend. You will receive a verification email shortly.
There was a problem. Please refresh the page and try again.