The Burbs Lose A Klopek, RIP Henry Gibson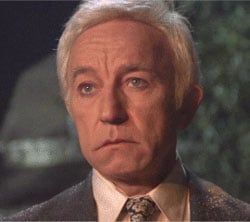 Henry Gibson was one of those great character actors whose face you knew, but whose name you didn't. Your parents and grandparents probably knew him from Rowan & Martin's Laugh-in. If you just fell off a turnip truck, then maybe you knew him from Boston Legal, where he's made regular appearances as the rascally Judge Clark Brown. But Henry Gibson was one of those actors who showed up in, almost literally, everything. From animation to Star Trek to Paul Shore's Bio-Dome; you name it, he did it in an acting career which spanned more than forty years. His IMDB page is endless, a warehouse of memories, a ticker-tape of roles in which he was, every single time, brilliant.
On Monday, the extremely small-statured actor passed away at his home in Malibu at the age of 73. A brief battle with cancer was to blame, but should cancer take me out at 73 I'm pretty sure I'll shrug my shoulders and say, "good enough." Whether or not Gibson's life was good enough we'll leave for his friends and family to decide, but his career was better than good. It was in its own quiet way epic.
In my little world, I'll always remember him best the murderous Dr. Werner Klopek from Joe Dante's underrated 1989 horror-comedy The burbs'. In it, Gibson leads a gang of murderous killers who move in next door to Tom Hanks and Carrie Fisher, smack dab in the middle of suburban paradise. If you haven't seen it, but you've seen Disturbia, it's pretty much the same except better and with a whole lot of funny. Gibson in particular is fantastic, putting his unthreatening stature to use as a creepy neighbor who may or may not be chopping up bodies in his basement with his creepy clan.
Henry Gibson is, today, no doubt mourning. But as a fan of his work and of just flat out great character actors, I feel like celebrating. Henry Gibson out is gone, but he's left a huge body of work behind him. He was a professional actor who mastered his craft in a way few others have. He saw it all, he did it all. We won't forget him.
Your Daily Blend of Entertainment News