Captain America Sequel Titled Captain America: The Winter Soldier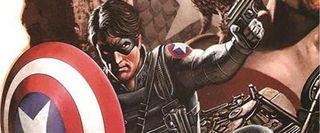 There's tons of news coming out of Marvel's Comic Con panel as we speak, and we'll be bringing it all to you as it comes to us, but here are two small ones to start things off. The studio has announced official titles for two of their upcoming sequels! Coming November 8 next year will be Thor: The Dark World, and then April 4 of 2014 we'll be getting Captain America: The Winter Soldier.
The Winter Soldier title is what really got the Hall H crowd excited, and you might need to know a little bit more about your comics to understand why-- the Winter Soldier is the identity taken on by Captain America's best friend and sidekick Bucky Barnes (played by Sebastian Stan) after he's brought back from supposed death. When we saw Bucky die in Captain America: The First Avenger a lot of people speculated that Winter Soldier might be in Bucky's future, and this title seems a pretty clear confirmation that a reunion with his old pal is in store for Captain America this time around.
As for Thor: The Dark World, that's more of a mystery. Any guesses are welcome in the comments. And for all the news from Marvel as it happens instantly, keep an eye on Eric's live blog.
Staff Writer at CinemaBlend
Your Daily Blend of Entertainment News
Thank you for signing up to CinemaBlend. You will receive a verification email shortly.
There was a problem. Please refresh the page and try again.